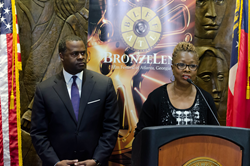 Atlanta, GA (PRWEB) September 30, 2014
Atlanta Mayor Kasim Reed, BronzeLens Film Festival (BLFF) producers, the Mayor's Office of Film and Entertainment and festival supporters gathered at City Hall to announce details for the fifth annual BronzeLens Film Festival, which will take place October 22-26, 2014 in various locations throughout Atlanta. "I am delighted that the BronzeLens Film Festival will be kicking off in October" said Mayor Kasim Reed. "Events such as BronzeLens strengthen Atlanta's role in the entertainment industry and bring national and worldwide attention to our great city as a center for film and film production. This industry continues to have a tremendous economic and cultural impact on the city of Atlanta, and I'm looking forward to working with our partners to ensure this festival is a success."
"When we started the BronzeLens Film Festival, five years ago, we never expected the exponential growth of the film industry in bringing business to Atlanta. We have seen the investment in Georgia grow more than 400 percent from $1.15 billion to 5.1 billion since the inception of BLFF. This translates into jobs and business opportunities in metro Atlanta, and a better quality of life for our community", said Kathleen Bertrand, Senior Vice President, Community and Governmental Affairs, Atlanta Convention and Visitors Bureau, and BLFF executive producer.
LaRonda Sutton, director of the Mayor's Office of Film and Entertainment stated, "The success of the film industry in Atlanta is no secret, with a state-wide $5.1 billion economic impact, 75 percent of which is concentrated in the city of Atlanta. This success is for many reasons: the 30 percent state tax credit, a variety of looks for locations, a talented and experienced crew base, abundant public- and private-sector resources for filmmakers (including my office and the state film office), 26 direct flights a day between Atlanta and Los Angeles, and several production and post-production facilities of all sizes, among others."
According to the Georgia Department of Economic Development Division of the State of Georgia more than 700 film and television projects have been shot in Georgia. Figures from Fiscal Year 2014 show the following:

Georgia-lensed feature films and television productions created $5.1billion in economic impact
The 158 feature film and television productions shot in Georgia during Fiscal Year 2014, spent $1.4 billion
The motion picture and television industry supported more than 77,900 jobs and generated $3.8 billion in wages
People of color are under-represented among the production companies, independent producers, film and television projects, television networks and Hollywood studios within the film and television industry. National figures reflect an even smaller percentage of participation from people of color among the ranks of senior management and ownership. Bertrand further asserts, "An event like the BronzeLens Film Festival can play a pivotal role by providing access to decision makers within an industry that spends billions of dollars annually in Georgia."
Over the course of five days festival producers will bring together film lovers, actors and filmmakers to gather in culture-and-heritage-rich Atlanta, Georgia, at the Atlanta Marriott Marquis to share a creative platform of education, entertainment and empowerment discussions related to film, as well as television and the production of both. The BronzeLens Film Festival will feature screenings in multiple venues, as well as informative panels and enlightening master classes led by top names in film, direction and production.
About the BronzeLens Film Festival
Founded in 2009, The BronzeLens Film Festival of Atlanta, Georgia is a non-profit organization dedicated to bringing national and worldwide attention to Atlanta as a center for film and film production for people of color. Its mission is twofold: to promote Atlanta as the new film Mecca for people of color; and to showcase films and provide networking opportunities that will develop the next generation of filmmakers. Since its inception the BronzeLens Film Festival has evolved as one of the most comprehensive film festivals for filmmakers of color in the United States.
Visit http://www.bronzelens.com for more information regarding the BronzeLens Film Festival and for registration information.
Sponsors of the BronzeLens Film Festival are Atlanta Convention and Visitors Bureau, The Coca-Cola Company, Atlanta Marriott Marquis, Delta Air Lines, City of Atlanta, Mayor's Office of Film and Entertainment and Bureau of Cultural Affairs, HBO Documentary Films, BET Networks, Georgia Pacific, The Woodruff Arts Center, ASPiRE Television and UP TV.
Media Credentials
Approved media representatives who have RSVP'd in advance and received written confirmation from Terri Vismale-Morris or Tina Spencer will have access to interview areas, and red carpet arrivals. This includes media opportunities with filmmakers, honorees, panelists, festival producers and other special guests of BLFF. All media must email tinaospencer(at)gmail(dot)com to request access to cover these opportunities. For more information regarding the BronzeLens Film Festival visit http://www.bronzelens.com
###
Contacts:
Terri Vismale-Morris
Director of Public Relations BronzeLens Film Festival
404-721-7130 or tvmorris(at)bronzelens(dot)com
Tina O. Spencer
Manager of Public Relations BronzeLens Film Festival
313-617-0484 or tinaospencer(at)gmail(dot)com