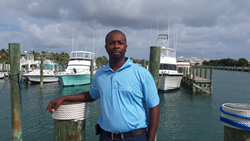 Off the beaten path … class without the cost.
Nassau, Bahamas (PRWEB) September 30, 2014
Since its opening last year, the Palm Cay marina with its topnotch construction and amenities and its quiet location inside a secure beachfront community with pools, restaurant, tennis and more has earned rave reviews from boaters. Now it's officially become New Providence's 1st choice marina on a website that is the tripadvisor of the boating world.
Called Activecaptain.com, the blog allows honest posts by users. Visiting yachtsmen have named Palm Cay a "1st Choice Marina" on the ActiveCaptain website and they are the only marina in New Providence to receive this rating.
"We got comments like 'the docks are beautiful and the beach is superb. This is a first class marina that will only get better.' That was from the captain of a boat from Newburyport, Massachusetts," said Bonczek. Nearly every one of the reviewers rated Palm Cay five stars, the top ranking. A boater from Portland, Oregon called it 'Nassau Sanctuary,' and wrote, "We are kicking ourselves for not going to Palm Cay Marina sooner…If you need to be in Nassau for a while and want some place where you can watch the turtles and hear the birds and wander safely at night, Palm Cay is worth checking out."
The marina, which is the closest to Exuma, is one of the prominent features of the nearly 70-acre development that when completed will include some 350 residences with a mixture of single family homes, townhomes and condos, a restaurant, clubhouse, tennis, two pools, 1,200 feet of sandy beach, boardwalk and gazebo and 24-hour gated security. The fully-funded development prides itself on being more than a project, but bringing back the feeling of community minutes from schools, churches and the commercial buzz of Nassau. Palm Cay Marina also serves as a BASRA outpost.
Palm Cay Marina & Beach Club has also announced the appointment of Demaro Demeritte as Dockmaster with responsibility for its active 194-slip marina on New Providence's southeast coast. A veteran of the water sports industry and holder of three classes of captain's operator licenses, Demeritte had served as Deputy Dockmaster of the 5-star rated, multimillion dollar marina since June.
"We are extremely pleased to announce the appointment of Demaro Demeritte as Harbormaster," said Palm Cay Director of Sales & Marketing Zack Bonczek. "Despite the boating activity in The Bahamas, there are only a handful of qualified harbormasters like Demeritte and we were fortunate to have identified him and happy that he has selected Palm Cay for his career. Demaro has the necessary academic and technical engineering skills, followed by more than a dozen years of experience. He also has marketing strengths and the ability to handle the local and visiting boating market as well as looking after all the equipment, docks, electrical, fuel supply and other components of the Palm Cay Marina."
For Demerrite, being in, on and around the water is as natural as breathing air. His uncle and his business associates, he recalls, were first to introduce jet skis to The Bahamas and he cannot remember a time he was not swimming, snorkeling or, even as a child buckled in life vest, on the back of a jet ski, wide-eyed at the wonder of Bahamian waters.
Demeritte, 33, attended St. Augustine's College in Nassau before earning an associate's degree in Computer and Electrical Information from Tampa Technical and a second degree in Office Management, graduating with high honours from what is now Remington College. Owner of a successful water sports business on Paradise Island, he also lectures in the Ministry of Tourism's training program, Bahamahost, and has continued to participate in several of the series of hospitality related educational classes. Fully certified as a first responder with CPR training, Demeritte was appointed by Minister of Transport & Aviation Glenys Hanna-Martin to The Bahamas Water Sports Safety Board. He has been featured on the nightly Tourism Today segment twice. He holds Class A, Class B and Class D Captain's Licences, the latter for motorized water sports.
In his new role, Demeritte is responsible for marina business, marketing strategy, guest relations, marina staff, facilities, including the 4,000-gallon gasoline and 10,000-gallon diesel supply, water, showers, laundry, dockmaster office, wi-fi and other amenities, and the day-to-day operations including assisting or ensuring assistance is available as boats tie up or leave the marina.
Palm Cay is an award-winning new development and home to exquisite and expertly-designed stand-alone homes and condos encircling a marina that is unrivaled in the Bahamas. Just 15 minutes from Nassau and 28 miles to the out islands, Palm Cay is a boater's paradise and the perfect oceanfront community for families and other adventurous souls who love the ocean.