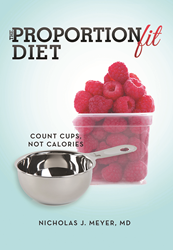 This isn't about a special pill or extravagant meal plans- it's about becoming healthier without turning your lifestyle, budget or sanity upside down.
ST. PAUL, Minn. (PRWEB) September 30, 2014
It's time to cut the crap- skip the fads, count the cups and drop the fat. The research is clear. Americans consider obesity a more serious societal issue than cigarettes and alcohol. However, a recent Gallup poll found that their desire to shed pounds significantly outweighs their efforts to do so.
So, why this disconnect? Dr. Nick Meyer, author of "The ProportionFit Diet," says gimmicky diets that promote extreme measures are one reason people are too intimidated to try and change their lives.
"These fad diets aren't successful because they focus solely on deprivation," Meyer said. "Gaining control of your waistline isn't about completely cutting out important food groups; it's as simple as understanding the food you eat."
By boiling down the hype and concentrating on facts that matter, Meyer helps readers of all ages form a healthy approach with his new guide, "The ProportionFit Diet: Count Cups, Not Calories."
Meyer brings decades of medical experience to the book, which teaches readers the effective ProportionFit lifestyle as well as important facts about nutrition, fitness and potential diet pitfalls.
"The ProportionFit Diet is a simple and realistic plan that is built on understanding portion control and how it impacts weight management," Meyer said. "This isn't about a special pill or extravagant meal plans- it's about becoming healthier without turning your lifestyle, budget or sanity upside down."
For more information, visit http://www.proportionfit.com/
"The ProportionFit Diet: Count Cups, Not Calories"
By Dr. Nick Meyer
ISBN: 9781483402994
Available in paperback and e-book formats (Nook and Kindle)
Available on Amazon, Barnes & Noble, Apple's iBookstore and Lulu
About the author
Dr. Nick Meyer is an orthopaedic surgeon, inventor, ex-Division I athlete and author of several studies and publications. He is a partner with St. Croix Orthopaedics and president of Precise Medical Technologies. He lives in Stillwater, Minnesota, with his wife, Karen, and his daughters Ellie, Sonia and Nina
# # #