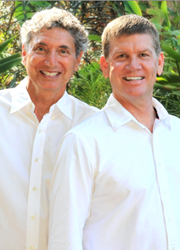 Maui, HI (PRWEB) October 03, 2014
The Haute Living Real Estate Network (HLRN) of HauteResidence.com is proud to recognize Robert H. "Robbie" Dein and Kenneth M. "Ken" Hayo as prominent real estate professionals and the network's newest members. HLRN unites a distinguished collective of leading real estate agents and brokers, highlighting the most extravagant properties in leading markets around the globe for affluent buyers, sellers and real estate enthusiasts.
About Haute Living Real Estate Network (HLRN):
Haute Living Real Estate Network (HLRN) of Hauteresidence.com offers readers the most prominent directory of experienced realtors, brokers and luxury listings, and HLRN has grown to be the number one source for real estate news, residential developments, celebrity real estate news and more. Seeking an experienced interior designer? Hauteresidence.com is also home to Haute Design Network (HDN), a collective of celebrated interior designers that will help you decorate your new home or stage an active listing. Access all of this information and more by visiting http://www.hauteresidence.com.
About Robert H. 'Robbie' Dein, Realtor-Broker/Owner, ABR, CRS, RSPS:
An innate desire to satisfy, educate, advocate and negotiate for his clients characterizes Robert Dein's standard of real estate practice. The esteemed broker regards himself as his clients' "Trusted Maui Advisor" after having sought out the highest level of education and tools to create success for his clients and their entrusted referrals. After earning his license in 1996, Dein scored numerous accolades in his early years of practice, including the National Association of Realtors' highest level of residential sales designations, CRS (Certified Residential Specialist), ABR (Accredited Buyers Representative) and RSPS (Resort, Second Home Property Specialist). Today, he continues to attend informative trainings in order to help develop his network of Buyer's agents worldwide and bring the latest cutting edge tools and marketing skills to his real estate practice.
Along with a seasoned career of over 40 years and an entrepreneurial business background, Dein brings to his real estate practice a team of service providers second to none: lenders, property inspectors, surveyors, handymen, escrow officers, contractors, and a full-time marketing assistant. His lovely wife of 28 years, Nancy, is also a licensed Hawaii realtor and a valuable team member. Together they are focused on accomplishing their clients' goals in a timely and stress free manner.
All the accolades they have accumulated are the result of tirelessly combining their comprehensive market knowledge, cutting edge tools, and living in the question of, "What could be better for our clients?" The results: Year after year, Dein has been crowned "Century 21's Number One Realtor on Maui"; "Century 21's Grand Centurion National Sales Honor Society and Hall of Fame"; "Top 100 Hawaii Realtor" Hall of Fame: Hawaii Business Journal 2006-2014; a "Top 10 Maui Realtor'"; and most importantly, has an extensive family of satisfied buyers and sellers representing over a half billion dollars in successful real estate transactions. As a service to his community and colleagues, he volunteers and serves as vice president of the "Wailea Town Center Home Owners Association" and as a former director on the board of the "Hoolei at Wailea Condominium Association." He is currently serving as the South Maui Regional Director for the Realtor Association of Maui and has served on their Government Affairs Committee. In addition, Robbie regularly attends both the Kihei and Wailea Community Association meetings. Participating in creating the vision of "Life on Maui" and in our community, now and in the future, on behalf of his clients and himself, is a responsibility he takes very seriously.
About Kenneth M. 'Ken' Hayo, Principal Broker:
Committing to 100% client satisfaction is Kenneth Hayo's guarantee, while earning his clients' loyalty is his ultimate goal.
Hayo is very proud to have received many Quality Service Awards over the years with the Century 21 System—awards based upon client feedback to surveys sent from the corporate level.
According to Hayo, having been licensed to practice real estate in Maui for over 25 years and being involved either as a sales agent, broker, or principal broker in over two billion dollars in real estate sales has helped him to provide his clients with a level of experience, service and integrity that they should expect when hiring a real estate professional.
In addition, Hayo has held numerous positions with the Realtors Association of Maui over more than 24 years including Board of Director, Professional Standards Panelist & Chair, Grievance Committee Chair, & South Maui Regional Director, which helps to keep him on the leading edge of the industry. He has also mentored over 100 real estate agents over the years, including many that have gone on to become top producing agents and brokers.
Hayo has been married for 30 years to his wife Desiree and has two children. Over the past twenty-three years, he has also had the privilege of coaching high school soccer for several Maui schools. According to Hayo, helping to make a difference in the community as well as in children's lives is paramount, and gives him great pride. He approaches real estate with the same mindset and finds that he attains the same satisfaction and fulfillment in helping clients with their real estate needs.
Together, the duo's vast contractual experience, historical market knowledge, cutting edge technology, and professional full-time staff and real estate team aim to provide clients with a legendary level of service that, quite honestly, is rare to find in any business. Dein and Hayo strive to diligently educate clientele as well, by offering accurate market data, insights, and trends to their customers in order to help them make their own informed, highly important personal financial and investment decisions as they relate to Maui Real Estate. The partners' unparalleled experience—garnered from having pushed through many real estate market cycles—will offer clients valuable insight into not only the Maui market's history and direction, but also into how Maui has historically dovetailed with the rest of the U.S. and worldwide real estate markets.
To learn more, visit Robert H. "Robbie" Dein and Kenneth M. "Ken" Hayo's Haute Residence profile.
See the most current year-to-date Maui Real Estate Market Statistics by clicking here. For up-to-date Maui, Hawaii information, please peruse the Maui Real Estate Advisors blog or the company's featured properties.
Search all Maui Properties at http://www.mauirealestateadvisors.com.