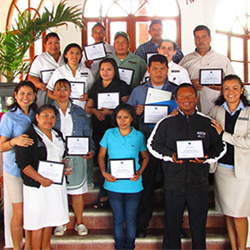 "Can you imagine how important it is for our employees to be able to help their children with their homework when they couldn't read or write or hadn't finished primary school until they joined our program?
Orlando, Florida (PRWEB) September 30, 2014
Royal Resorts, a family of luxury resort properties in Mexico, is committed to supporting its employees every way they can, and one significant example of this is the development of their skills through an Employee Education Program, which is celebrating its 20th year of providing staff the opportunity to take the courses necessary to graduate at secondary school level.
The Employee Education Program was created in 1994 by Manuel Montalvo, the corporate Human Development Manager of Royal Resorts. Through this program, employees are taught English and computer literacy as well as the other skills necessary to graduate from secondary school.
Royal Resorts, which was founded in 1975 and is a pioneer of the Mexican tourism industry, noticed as it expanded and its workforce increased in size, that many of its employees hadn't finished primary school and were not able to sufficiently read or write.
The company wanted to give back to its loyal employees, and at the same time continue to build upon and invest in the superior customer service they are known for through happy and engaged teams. So they created the Employee Education Program to help its employees with these basic tasks and were not only able to teach them to read, write and use computers but also award them with a valid certificate from the Secretary of Public Education. This accreditation gives each employee more opportunities for career advancement, and if they wish, to continue their learning at other educational institutions.
"At school I learned many different things that later helped me to think before acting, both in my professional and in my personal life. It also helped me when my kids were in school because I was able to help them with their homework and that was something very rewarding for me. I wish that we could all achieve our goals because this makes life very rewarding. I think that education is the best way to improve our professional and personal life," says Concepción Islas Hernández, from the housekeeping department at Royal Resorts.
On average 30-35 employees graduate from the education program each year, totaling 1,700 certificates issued thus far. The education program and the company values instilled by Royal Resorts have resulted in higher employee morale, loyalty and longevity, with employees staying with the company for as long as 10 years on average.
"Can you imagine how important it is for our employees to be able to help their children with their homework when they couldn't read or write or hadn't finished primary school until they joined our program? Many of our employees have mentioned this to us and it fills me with so much happiness to know that we are making a difference in their lives." says, Montalvo.
The values that are reinforced by having the employee education program are the values of education, knowledge and a sense of belonging. These values are then passed on to, not only the families of Royal Resorts's employees, but resort guests who are considered part of the Royal family.
Royal Resorts offers other employee benefits such as free transportation to work, food vouchers and a savings fund where the company deducts an agreed upon amount from the employee's salary to put aside and save for later.
For more information about Royal Resorts visit http://www.royalresorts.com
For those interested in a career with Royal Resorts visit http://royalresorts.occ.com.mx/Bolsa_Trabajo
About Royal Resorts
Founded in 1975, Royal Resorts is a pioneer in the Mexican tourism industry and now has four beachfront resorts in Cancun: The Royal Cancun®, The Royal Caribbean®, The Royal Islander® and The Royal Sands® and one in Playa del Carmen, The Royal Haciendas®, located at the heart of the Riviera Maya. The latest member of the Royal Resorts collection is Grand Residences by Royal Resorts®, a luxury beachfront resort to the south of Puerto Morelos. The first phase opened on December 7, 2013 and the property is affiliated with The Leading Hotels of the World®. All the Royal Resorts offer spacious fully equipped suites and an array of five-star amenities and activities.