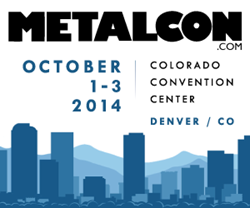 I look forward to helping roofing professionals target the right prospects, build value into their products, overcome pricing objections and close more sales. -Frank Farmer-President, American Metal Roofs
Denver, Colorado (PRWEB) September 29, 2014
Frank Farmer, President of American Metal Roofs will be a featured presenter at METALCON. METALCON is an event for metal construction products, technologies and solutions. This year, METALCON will be held October 1-3, 2014 at the Colorado Convention Center in Denver, Colorado.
METALCON participants can join Frank Farmer in a two-part Metal Roofing Boot Camp: 12 Easy Steps to Closing More Sales of Residential Metal Roofing. In this intensive, invigorating program, he'll show attendees how to reap more rewards from the thousands of dollars spent on advertising, setting appointments, and meeting with prospects. He'll walk through the logical planning that ensures industry professionals are marketing to the right people, setting themselves apart from the competition, properly handling inquiries, and generating a needs analysis from the customer that results in an order.
In this interactive session, Frank will also evaluate whether salespeople are spending more time telling, when they should be empowering the customer to make a decision to buy. Frank's step-by-step sales system has proven successful to increasing the number of sales to the right people for the right price. That may mean companies won't get every sale, but they will see significant improvement in their bottom line, because they are targeting the right prospects correctly.
Part I of the boot camp will analyze companies current activities and discuss what might be changed.
Part II becomes even more active as it identifies how to take the steps needed to increase sales performance and become a million dollar or multi-million dollar producer.
Participants will discover who the target customer is, how to properly handle a lead and do a needs assessment, including performing an inspection that empowers a customer to buy now. Frank will show how to build value in a roof and get the right price, and how to properly present the price. He will also share the 5 simple closes that every sales person should know and when to use them.
This no-holds-barred Boot Camp will leave people motivated and determined to succeed with a systematic sales approach that produces immediate results.
The fee for this seminar is included price for this conference.
Speaker Bio:
Frank Farmer is President of American Metal Roofs, Flushing Michigan, a company he started and now successfully runs. His expertise is in selling the best quality roofs with company-trained skilled craftsman. American Metal Roofs has thrived during the economic downturn and has added key strategic products to its business to make it a profitable leader.
About METALCON:
METALCON is the one event that helps you pioneer new frontiers in the metals industry. Its message is the application of metal in roofing, residential, commercial, industrial, institutional and municipal construction.