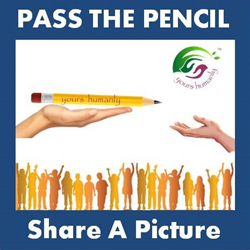 San Francisco, CA (PRWEB) September 30, 2014
Everyone loves looking back on old school photos. The hairstyles, the clothes, and most of all the memories of lessons learned and friendships formed live on in our treasured photos. The popularity of trends like #tbt (Throwback Thursday) on Facebook and Instagram attest to the enjoyment we all get from sharing old photos of ourselves and seeing how far we've come.
What if that photo of you in braces could help disadvantaged children create memories of their own? Yours Humanly has created a way, with three simple words: Donate, Nominate, Educate.
Yours Humanly has launched a global campaign that seeks to raise funds for their mission to eradicate child illiteracy and give all children access to a quality education. Help children worldwide create their own school memories by donating to the "Pass The Pencil – Share a Picture" campaign. Simply make a donation of any size, share old school photos on your Facebook wall, and pass the pencil by nominating friends to do the same. Donations of $1, $5 or $10 can quickly become a powerful force; any amount will make a difference in the life of a disadvantaged child. Share a class photo, and nominate all your third grade schoolmates! It's a fun way to spread awareness and raise funds for an incredibly important cause.
It's easy to take our education for granted. Even the simple ability to read your social media news feed is the result of receiving a quality education. But for so many children worldwide, photos of their childhood include poverty, forced labor, or even prostitution. Change those pictures of despair with a generous donation to Yours Humanly today. You can pass the pencil, and help these deserving children escape the vicious cycle of poverty with a quality education through the efforts of Yours Humanly.
Donate, Nominate, Educate through Yours Humanly today. Pass The Pencil – Share A Picture, and help disadvantaged children create their own school photos to be treasured for years to come.
Watch Our Video
About Yours Humanly
Yours Humanly is a non-profit organization dedicated to sponsoring education for children around the globe to prevent them from being victimized by poverty, child labor, prostitution, and other potential devastating situations. The non-profit's mission is to empower underprivileged children around the world through education and instill in them a real sense of pride, confidence, and freedom. With the assistance of volunteers and donors, the nonprofit provides funding to pay for education-related costs such as tuition, books, and uniforms for grades K-12.
Yours Humanly Website