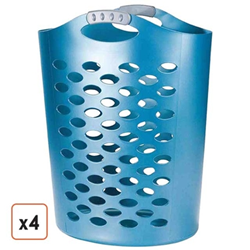 Urbana, IA (PRWEB) September 30, 2014
Online retailer JustPlasticBoxes.com has recently expanded its product line, adding a new category of plastic laundry baskets and hampers.
The new group includes multiple styles of hampers and baskets to fit a wide range of storage needs. The line is part of an overall growth trend the online retailer is experiencing.
"Our inventory is increasing quickly," said Tammy Karr of JustPlasticBoxes.com. "We're always working to organize the site and make it easier for our customers to shop online."
The new "Laundry" category offers baskets and hampers in a variety of colors, sizes, and storage capacities, all from top names in the industry, including Rubbermaid® and Sterilite®.
Items include hampers with or without lids, tall hampers and short baskets. The variety of styles is designed to satisfy the company's growing and varied customer base which ranges from families, teachers, and preschools, to larger school districts, colleges, and hospitals.
Because JustPlasticBoxes.com specializes in bulk quantities, customers can enjoy wholesale pricing every day, as well as free shipping.
"If a customer is in need of multiple hampers or baskets for a big family project, or if larger organizations are looking for storage solutions for schools or businesses, we've got something to fit everyone's needs," said Karr.
As with all products on JustPlasticBoxes.com, hampers and baskets are also available in single quantities. Customers can call the company toll free at 1-800-736-0651 to place single quantity orders.
About JustPlasticBoxes.com
JustPlasticBoxes is owned by Clickstop, Inc., an online retailer of niche brands in several different categories. Websites under the Clickstop company umbrella also include SpaceSavers.com, USCargoControl.com and EcoFoil.com. With strong vendor relationships from Clickstop's large e-commerce presence, JustPlasticBoxes is proud to offer high quality brand name plastic storage boxes at value prices with free delivery. For more information, visit JustPlasticBoxes.com.