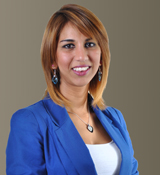 I am elated to have been appointed to the Law Societies Advanced Family Panel as it will enhance not only my professional profile but also that of the Duncan Lewis Family Department.
London, United Kingdom (PRWEB UK) 30 September 2014
Legal 500 recommended Family Law firm Duncan Lewis Solicitors are pleased to announce the appointment of Family Law Solicitor Simran Gupta to the Law Society Advanced Family Law Panel.
The Law Society Family Law Advanced Accreditation scheme covers specialist areas of Family Law work.
Members of the Advanced Accreditation Scheme will have exhibited and maintain a high level of knowledge, skills, experience and practice to a level to the satisfaction of the Law Society, in selected specialist areas of Family Law.
More information about the Law Society Family Law Advanced Accreditation Scheme can be found here.
Simran's outstanding achievements in the area of Family Law mean that she now joins 28 Panel members of the Duncan Lewis Family and Child Care Law departments, including Vanket Appondiah and Savita Sharma.
Simran added;
"I am elated to have been appointed to the Law Societies Advanced Family Panel as it will enhance not only my professional profile but also that of the Duncan Lewis Family Department. The accreditation will also allow me to market both myself and the firm. I hope to continue to be an asset to the Family Department at Duncan Lewis Solicitors. I am grateful to Duncan Lewis Solicitors for the opportunities that they have afforded me and the chance to develop my skills and knowledge in Family Law. "
Simran joined Duncan Lewis in November 2008 and is based in the firm's harrow branch. She also spends time at the firm's Uxbridge and Watford offices, meeting with clients and assisting in the growth and marketing of the firm.
Simran represents clients within all areas of Family Law including Divorce, Financial Relief matters including cases of assets of high net worth and pensions. She also represents unmarried parties in financial disputes.
Simran regularly represents clients in all Children Act proceedings such as applications for Contact, Residence, Prohibited Steps Orders and Specific Issue Orders. These include matters where there has been a history of violence, drug and alcohol use or Social Services involvement with one or both parties. Simran has also represented a number of parents in proceedings before the High Court including in the exercise of the Courts Inherent Jurisdiction, Wardship, Location and Collection Orders and Child Abduction matters where the Hague Convention has been enacted. Simran has also assisted clients with recovering children who have been abducted to Countries which are not signatories of the Hague Convention.
Simran also represents victims of domestic abuse and assists them in seeking protection in the form of Non Molestation Orders, Occupation Orders and Protection from Harassment Orders on an urgent basis. She has the necessary skills and empathy to undertake urgent work and seek a swift, positive resolution. Simran also assists alleged perpetrators of domestic violence as Respondents in proceedings where unfounded applications for injunctions have been made against them.
Simran represents clients in both Private and Legal Aid matters. She also assists the Family Department in its Pro Bono work whereby she regularly attends on behalf of the department on free legal rotas with various charitable organisations such as Women's Centres, Contact Centres and Refuges.
Duncan Lewis is a leading firm of divorce solicitors and one of the UK's leading providers of Legal Aid services and can advise on a plethora of Family Law and Children Law matters under UK and Islamic law, including:
· Children
· Divorce / Separation
· Domestic Violence/ Harassment
· Financial & Property (married or unmarried)
· Civil Partnerships/ Dissolution
· Child Abduction
About Duncan Lewis
Duncan Lewis, established in 1998, is the largest civil legal aid practice in the UK and one of the country's fastest growing firms of solicitors, serving both corporate entities and private individuals from offices across London and throughout the UK. A recommended leading law firm by Law Society Lexcel, Legal 500; Duncan Lewis employs over 500 members of staff and was the first law firm to achieve the Investors in People Gold Quality Standard Mark in 2009. Representing over 25,000 clients per year, the company has an excellent reputation in the Administrative Court, High Court and Court of Appeal in the Immigration, Public law and Family/Child Care jurisdictions.
Established areas of law are: business immigration, child care, civil liberties, clinical negligence, community care, crime and fraud, dispute resolution, debt and insolvency, employment, family and divorce, housing, asylum and immigration, litigation, mental health, personal injury, prison law, professional negligence, public law and administrative law, regulatory matters and welfare benefits.