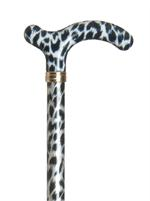 Animal Themed Walking Canes
Leesburg, Florida (PRWEB) September 30, 2014
Walking-Canes.Net received many new styles for the fall. The women will love the new colors and the styles. The colors are bright fall colors and help present the walking cane in many different outfits.
The animal themed designs are one of the hottest new trends in the industry this year. Try one of the Leopard Print Canes or one of the Cheetah Print Canes. These designs lend themselves well in the world of fashion. These items are offered in adjustable styles such as the adjustable slim line canes and the folding fashion canes. The adjustable canes are made of lightweight aluminum and are simple to adjust the height. Push a button and slide and lock to make the easy adjustment on heights. The days of the old wooden cane are gone, and just because one has a disability and needs the use of a cane, there is no reason not to have a fashion walking cane.
The new styles are in fall fashion colors and are available for shipping. If the cane user wants a more of a formal look this fall try some of the new Elegant Diamonds. What a wonderful looking cane! The Elegant Diamonds come in Black, Blue, Bronze, Gold, and Cream Color, so finding one to go along with your wardrobe will not be difficult. The Elegant Diamond Collection comes in both adjustable standard and adjustable folding.
For that lady whose hands are smaller than normal the new Petite Collection of Walking Canes is beautiful and will make the petite lady not feel left out in the world of fashion. The Petite collection can be found on the website and offers a wide variety of colors and styles to pick from.
The customer service department is open during normal business hours. A toll free number for help is 1-888-928-1774.