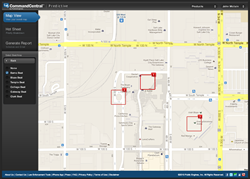 "These results are significant as it means that agencies that leverage CommandCentral Predictive can reduce crimes in a broad range of crime categories." William Kilmer, PublicEngines CEO
Salt Lake City, Utah (PRWEB) September 30, 2014
PublicEngines, a provider of cloud-based solutions that facilitate crime analysis, supply actionable intelligence and increase community engagement for law enforcement, and governments today announced that it has now launched three new crime categories for CommandCentral Predictive.
The three new crime categories are street crime, theft of vehicle, and theft from vehicle. Each category has been highly requested by law enforcement agencies since the launch of CommandCentral Predictive in late 2013. It brings the total crime categories supported by CommandCentral Predictive to five, including previous categories burglary and property crime.
Each category leverages the ensembled prediction engine developed by PublicEngines for CommandCentral Predictive, which analyses historical data and crime interactions to create an accurate, daily forecast of future crimes by shift.
"We are very excited to add these new crime categories to CommandCentral Predictive," said William Kilmer, CEO of PublicEngines. "These three new categories: theft of vehicle, theft from vehicle, and street crime, represent approximately 37% of the crimes in jurisdictions that we have evaluated. So, the additional ability to predict these crimes has the potential to make a significant impact on crime reduction."
To validate the accuracy of PublicEngines' predictive algorithms in predicting the new crime categories, PublicEngines performed extensive testing using live data from actual cities. The results of months of testing showed an accuracy level of 33.5% for street crime, 26.3% for theft of vehicle, and 33.3% for theft from vehicle, with some categories and cities showing higher than 40% accuracy in predicting next day crimes. This is comparable to traditional hot spotting techniques using kernel density estimation methods, which result in accuracy ratings of approximately 9%.
"We are very pleased with the results of CommandCentral Predictive which has contributed to great interest from law enforcement agencies," said Kilmer. "These results are significant as it means that agencies that leverage CommandCentral Predictive can reduce crimes in a broad range of crime categories. It gives agencies the choice to focus on the crime categories that are most important to them."
CommandCentral Predictive is a cloud-based application that analyzes agency crime data on a daily basis and produces targeted, accurate crime predictions that are easy to use by officers as part of their directed patrol plan. The new crime categories are available immediately. For more information, visit http://www.publicengines.com/products/commandcentral-predictive.php
About PublicEngines:
PublicEngines develops easy-to-use, cloud-based software that helps law enforcement, government, defense, and other organizations gather, analyze, and share intelligence to improve public safety. Used by more than 2,000 organizations worldwide, our market-leading solutions are accessible wherever you are, and are easy-to-deploy with minimal training and no additional IT burden or expense. For more information visit http://www.publicengines.com.