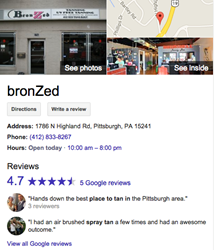 Bridgeville, PA (PRWEB) September 29, 2014
Google Business Tours have landed in the Pittsburgh area with Google certified photographers at Higher Images, Inc and are proving strong results of business growth with this latest service.
Google Business Tours are interactive, panoramic photos that showcase all the details and images of businesses through Street View Technology. These tours enhance the presence of businesses across Google and the world by allowing customers to "walk" through the store/building and explore like never before.
Chris Reidenbaugh, Higher Images, Inc.'s Google Certified Photographer, is making a killing in the Pittsburgh market and improving businesses while doing it.
"Google Business Tours are an amazing way for people to see inside of a business before they set foot inside," said Reidenbaugh. "They are able to look at products, decor, etc. and get a good view of what people can actually expect from a business. "
Reidenbaugh has shot, edited, and published 35 Google Business Tours since March. Some of his recent projects were with Eyetique, Cains Sports Bar, Pro Martial Arts, Oakmont Bakery, Princess Lanes Bowling Center, and Bronzed Tanning Salon.
Bronzed Tanning Salon is extremely impressed with the Google Business Tour and how it has so quickly benefited the business. Jessie Donahue, owner, is more than pleased.
"The tour was placed online over a month ago, and it produced a lot of leads and got the word out about services we offer," said Donahue. "Cleanliness is huge for tanning salons, which was shown in the tour and brought in more foot traffic."
Higher Images believes this Street View Technology is great and applicable to any business, and the company is excited to be working with some bigger named clients that will be featured on Google with a Google Business Tour.
For more information, please call (412) 203-1996.