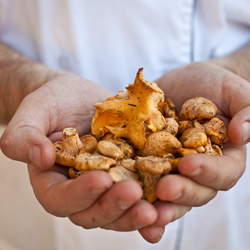 The Matsutake mushroom chowder, a signature vegetarian dish, will be returning soon right alongside several other seasonal dishes...
Dayton, OR (PRWEB) September 30, 2014
As the leaves begin to take on their saffron hues and the smell of wood smoke permeates the air, the Fall Season brings fresh inspiration to Oregon's Willamette Valley dining scene. This is especially true for the famed Joel Palmer House Restaurant where seasonal mushrooms are the keystone of the menu.
Chef Christopher Czarnecki carries on four generations of passion for seasonal produce and wild-harvested finds. This fall season, Chanterelle and Lobster mushrooms have been plentiful, claiming core places on the Joel Palmer House tasting menus. Chef Czarnecki also noted that the oft-sought after Matsutake mushroom will make its appearance on the menu.
"The Matsutake mushroom chowder, a signature vegetarian dish, will be returning soon right alongside several other seasonal dishes such as Matsutake won-ton soup, sautéed chanterelles over puff pastry, vegan saffron and Chanterelle soup, lobster mushroom duxelle with sturgeon and others," says Chef Czarnecki.
Just like the menu, the atmosphere at the Joel Palmer House combines traditional elements with modern flair. Offering new options for three-season outdoor dining, guests can take the more traditional approach and enjoy their meal in the historic dining room or choose to enjoy the new fall menu by candlelight while taking in a view of the garden in the outdoor dining area.
About The Joel Palmer House Restaurant
The Joel Palmer House's innovative and exciting menu features choice local produce, wild mushrooms and Oregon truffles. Chef Christopher Czarnecki and family strive to incorporate seasonal ingredients and use many locally grown vegetables, including many from their own on-site garden. Chef Christopher Czarnecki has created a tantalizing, creative menu that marries perfectly with the world renowned Pinot Noir of Oregon's Willamette Valley.
Of note, the Joel Palmer House ranks as one of Oregon's finest historic homes and is on the National Register of Historic Places and the Oregon Historic Register. Built in 1857, the house is Dayton's oldest standing structure. When weather permits, guests can enjoy their dinner on our outdoor patio, soaking in the last rays of sunshine in the heart of Oregon Wine Country.
The Joel Palmer House is open Tuesday through Saturday for dinner beginning at 4:30pm. Level 2 EV (electric, plug-in vehicle) charging is complementary for guests. For the most up-to-date specials and announcements, follow the Joel Palmer House on Twitter at @joelpalmerhouse and on Facebook at http://www.facebook.com/thejoelpalmerhouserestaurant.