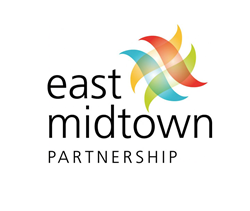 I've lived in the New York metropolitan area for many years now and find that East Midtown has a great deal to offer the out-of-towner, as well as the native New Yorker
(PRWEB) September 29, 2014
There's no denying that New York City is the greatest city in the world. When traveling here, people think about going to the Empire State Building and shopping at Saks Fifth Avenue, but what many people don't know is that East Midtown is lined with upscale shops and fine restaurants and should be part of every travel itinerary.
The East Midtown Partnership, the business improvement district for the area, recently introduced some initiatives for both locals and tourists including:
Passport Program – Just by signing up on the EastMidtown.org website, people can get access to a card that offers major discounts to stores like Kenneth Cole and the Walking Company, to fine dining establishments like Le Cirque and Fig & Olive. More than 90 businesses participate in the program, so there's something for everyone. (The entire list is on the East Midtown website at http://www.eastmidtown.org/Passport)
East Midtown Partnership App – There's even a free app that includes all the great shopping, dining and experiences you can have by going to East Midtown. It will even hold a digital version of your Passport card! The app is available for both Android and Apple and can be downloaded at http://www.eastmidtown.org/app.
In addition to that, there are many interesting venues that aren't so "touristy" including:
Cultural Events and Theatre – There is a lot of culture and entertainment in East Midtown, from innovative theatre at 59E59 Theaters to live jazz at Somethin' Jazz Club New York to public art displays.
The Decorative Arts District – From galleries and showrooms to the world-famous Decoration & Design and Architects & Designers buildings, East Midtown Manhattan is an international destination for home furnishings.
Fine Dining – With scores of restaurants—including Le Cirque, Amali, Harlow, Le Colonial, Felidia, The National, and many more—East Midtown is a prime destination for gourmands.
"I've lived in the New York metropolitan area for many years now and find that East Midtown has a great deal to offer the out-of-towner, as well as the native New Yorker," said Rob Byrnes, President of the East Midtown Partnership. "And with the deals offered through our Passport program, visitors receive a real benefit while they experience one of the nicest areas of New York City."
The East Midtown Partnership is one of New York City's 69 Business Improvement Districts (BID). It covers 48 blocks of Midtown Manhattan and is funded through assessments on commercial property owners and managed by a volunteer Board of Directors comprised of property owners, business owners, residents and community stakeholders. For more information on the East Midtown Partnership visit http://www.EastMidtown.org.