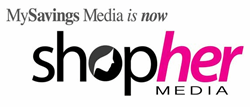 Fort Lauderdale, Florida (PRWEB) October 01, 2014
MySavings Media, a leader in targeting women through performance and awareness marketing, has just announced that it has rebranded to ShopHer Media. Under the new name, the South Florida based company has rolled out one of the largest, most diversified portfolios of shopper influencers, bloggers, and female focused media and created additional opportunities for major marketers who want to reach this audience.
For the last decade, ShopHer Media has worked with some of largest CPG, OTC, and retailer brands and has pioneered launches into the performance marketing and blogger outreach spaces for many of its clients. Spurred by exponential growth, ShopHer Media has expanded their focus of delivering coupon, sample, and loyalty marketing initiatives, and has been executing highly successful digital awareness programs for major brands with diverse goals and KPIs.
"We want to ensure that brands recognize our capabilities, which have grown tremendously over the last several years. As pioneers of the Shopper Influencer and Mommy Blogger space, we have flourished as a service platform for brands to engage with the Household CEO on their path to purchase," said Brandt Held, CEO and Co-Founder of ShopHer Media.
The company has maintained a strong reputation for exceeding advertiser goals through measurable, cost-effective strategies. The ShopHer Media team is very excited for what these next years will mean for the marketplace, as they expand their reach in new growth markets for targeting women shoppers, including Mobile, Canada, U.S. Hispanic, and Latin America.
"Brands should be leveraging digital and social media to more effectively reach women and moms. ShopHer Media provides the platform for them to do it," asserts Held.
**ShopHer Media is based in Ft. Lauderdale, Florida and reaches over 40 million household shoppers through its technologies and platform of influencers, mommy bloggers, and women-focused media to increase loyalty and deliver purchases for major marketers.