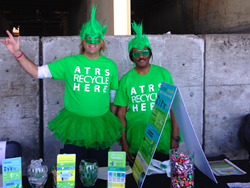 "I'm proud of the way our team came together around the country to be apart of the solution for textile recycling," says Kendra Lewis, ATRS Marketing Team Member
Houston, TX (PRWEB) December 03, 2014
Americans buy 5 times more clothing today than they were purchasing in 1980. Yet the average person donates or recycles only 12 pounds of the 70 pounds they discard each year. Sadly, the rest ends up in our municipal landfills.
This year, American Textile Recycling Service (ATRS) decided to do something about it. So ATRS employees, friends and family along with the company's distinctive green fairies and elves took to the streets with a campaign to Pledge2Recycle for America Recycles Day. Enthusiastic green teams decked out in signature green tutus, fluffy leg warmers, oversized glasses and wacky wigs set out to learn, impact and act to make clothing and shoe recycling a part of today and everyday.
Thousands of attendees gathered at ATRS sponsored events in cites including Los Angeles, Houston, Atlanta, Orlando and Nashville to learn about the many ways that recycling gently used, outgrown, unwanted clothing, shoes, toys and household textiles can impact the diversion rates of their communities, lower city dumping taxes and raise funds for local charities at the same time.
"I'm proud of the way our team came together around the country to be apart of the solution for textile recycling," says Kendra Lewis, ATRS Marketing Manager and event attendee. "Our outfits are green and humorous but our message is serious. We have a duty to responsibly dispose of clothing, shoes and textiles we no longer need or want. ATRS Clothing & Shoe Recyclers make it easy and convenient to do so."
In Orlando attendees at the Orange County Recycling Day toured the municipal landfill where clothing and shoes end up if not properly donated to textile recyclers. Employees working in Houston's vast energy corridor participated in several collaborative recycling drives sponsored by ATRS in office buildings like Post Oak Central and Energy Corridor drop off locations. Shoppers in Nashville dropped off clothing donations at Rivergate Mall while in Southern California attendees at the annual Diamond Bar Eco Expo.
The ATRS Pledge2Recycle campaign brought in approximately 10,000 pounds of recyclable materials that would otherwise have been thrown away during the month of November.
Textiles are one of our last most renewable resources. It requires no additional energy or carbon footprint to reuse clothing in the rapidly growing global second hand resale market. Unwearable textiles are easily cut up for the wiping rag and commercial cleaning cloth industry, while non-absorbent textiles are graded and sorted for insulation, upholstery stuffing, automotive use, thread and much more.
To find a year-round clothing donation drop off location, call the 24-Hour Hotline 866-900-9308 or visit http://www.atrscorp.com/Pledge2Recycle.
American Textile Recycling Service (ATRS) is the nation's fastest growing textile recycler and proud to be among America's leading companies proudly making America Recycles Day possible. Its socially responsible business model provides free textile recycling solutions for the public, job stimulation worldwide and much-needed funding for worthy local charities. Easy, convenient ATRS recyclers are available throughout Southern California, Atlanta, Orlando, Phoenix, Scottsdale, Tempe and Tucson AZ, San Antonio, Austin, Dallas, Houston, Galveston and Beaumont TX, Michigan, Oklahoma, Colorado and Tennessee. For press inquires contact pr(at)atrsonline(dot)com.