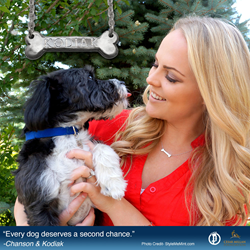 When you invest in a special memento like the "Dog Bone Necklace" to honor or memorialize your dog, you contribute to helping a network of rescue teams, volunteers, and my Foundation to do more for animals." – Cesar Millan
Los Angeles, CA (PRWEB) September 30, 2014
Pennyroyal Studio today announced their fifth release in a growing collection of charitable jewelry designs with dog psychology expert, Cesar Millan. The newest release is a handcrafted necklace featuring a solid sterling silver dog bone hung horizontally on a delicate, adjustable sterling silver chain. Dog loving customers can choose to engrave up to 10 characters on the piece, with prices ranging from $55-$75. Proceeds from the sale of each piece will benefit The Cesar Millan Foundation's DEAR Fund and the collection has raised over $30,000 since 2012. The line is available for purchase exclusively through http://www.pennyroyalstudio.com/cesar-millan/.
For a limited time, each sale of the new personalized dog bone necklace will also include a free handcrafted "Trust, Love, Respect" dog tag/keychain with Cesar Millan's signature engraved on the back.
"We honor our dogs everyday in so many ways. I honor and remember Daddy every time the DEAR Fund helps animals in need around the world. When you invest in a special memento like the "Dog Bone Necklace" to honor or memorialize your dog, you contribute to helping a network of rescue teams, volunteers, and my Foundation to do more for animals." – Cesar Millan
Pennyroyal Studio's Owner/Designer, Tim Foster says, "There are few things in life that are as powerful as the connection we have with our dogs. Working with Cesar to create jewelry that gives people a wearable reminder of that connection while raising money to rescue and rehabilitate dogs in need has been one of the highlights of my career."
About Pennyroyal Studio
The Los Angeles-based jewelry design studio was founded in 2006 by Pennyroyal's Owner/Designer, Tim Foster after leaving behind a career in the music business for the freedom of life as an artist. Foster's design inspiration has evolved since its music-centric conception to incorporate a more natural aesthetic revolving around our connection to nature and each other. His passion for music and philanthropy remains in tact with worldwide licenses involving some of the biggest names in music including Zac Brown Band, Carlos Santana, Jewel and more. Pennyroyal's charitable collaborations have raised over $240,000 to date.
About Cesar Millan Foundation
For seven years, the mission of the Cesar Millan Foundation has been to create and deliver humane education programs, raise critical awareness for the importance of spay/neuter on a local and global scale, and to reduce the senseless killing of shelter animals at a rate of 9,000 a day in the US and hundreds of thousands worldwide. For more information, please visit http://millanfoundation.org
About The Cesar Millan Foundation's DEAR Fund
Created in Daddy's memory, The DEAR Fund (Daddy's Emergency Animal Rescue Fund) provides assistance for dogs that are victims of abuse or violence, man-made disasters (hoarders and puppy mill rescues), and large-scale natural disasters (hurricanes, fires and other natural catastrophes). For more information or ways to donate visit:
http://www.millanfoundation.org/donate/dear.php
###
Media Contact for Pennyroyal Studio:
press(at)pennyroyalstudio(dot)com
Media Contact for Cesar Millan:
Keri Dizney
B|W|R Public Relations
(310) 248-6106
keri.dizney(at)bwr-pr(dot)com