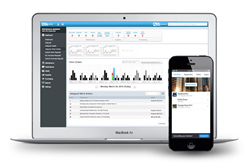 "Maintenance Assistant is focused on driving innovation and delivering actionable endpoints from M2M applications, so working with GoFleet to develop an integrated fleet management solution is an exciting milestone for us." - James Novak, EVP
Toronto, Canada (PRWEB) September 30, 2014
GoFleet and Maintenance Assistant Inc. (MA) today announced the launch of their integrated fleet monitoring and maintenance management solution available from GoFleet. "Maintenance management is a major component in any fleet management organization, yet many telematics solutions just focus on GPS tracking," said Alexander Contreras, sales manager at GoFleet. "Vehicles only generate income when on the road, so minimizing downtime is key to maximising revenue. After listening closely to our customers, we worked closely with Maintenance Assistant to develop an end-to-end solution that provides real-time synchronization of critical maintenance data. The real-time rich diagnostic and fault data is taken directly from the vehicle ECM through the Geotab GO device and sent through the 3G mobile networks to Maintenance Assistant Cloud CMMS platform. The end result combines all the features of telematics and maintenance management so our customer's can keep their fleet running smoothly and maximise the value of their fleet assets. It's a fully optimized, automated and cost effective fleet management solution."
The full end-to-end solution is sure to be the envy of any fleet maintenance department. Critical vehicle data such as odometer reading, engine temperature and engine oil levels are sent at regular intervals to MA CMMS where it is analysed and then archived. If any parameter trends out of specification, work orders are automatically triggered from the CMMS and assigned to the specific mechanics. This eliminates the human element in both recording meters and scheduling maintenance, ensuring fleet maintenance happens on time. For out of spec readings, mechanics will be notified to investigate the issue before it turns into something more serious.
With today's announcement, GoFleet and Maintenance Assistant also announce their ongoing partnership and collaboration in technology development. "GoFleet is dedicated to delivering added value in the fleet management industry by partnering with innovative brands that compliment our technology expertise," said Alexander Contreras. "Maintenance Assistant's MA Connect API made the integration quick and easy to develop the end to end solution. We will continue to work closely on emerging technologies in fleet management in the future. Combining our expertise in telemetric systems with Maintenance Assistant's expertise in asset management will position us to be a leader in this segment."
James Novak, Executive Vice President at Maintenance Assistant commented: "Maintenance Assistant is focused on driving innovation and delivering actionable endpoints from M2M applications, so working with GoFleet to develop an integrated fleet management solution is an exciting milestone for us. This collaboration shows the power and flexibility of the MA Connect development tools and API while delivering enormous value to new and existing GoFleet and MA CMMS customers."
About GoFleet
GoFleet is a leading provider of GPS fleet management solutions. They help companies to improve fleet management through innovative telematics and dispatch solutions. GoFleet is dedicated to assisting companies of all sizes in reducing fleet life-cycle costs associated with maintenance, fuel, and driver management.
For more information about GoFleet please visit: http://www.gofleet.com.
About Maintenance Assistant
Maintenance Assistant is one of the fastest growing Enterprise Asset Management and CMMS cloud solution providers. Maintenance Assistant offers a powerful and easy-to-use CMMS Platform to help businesses efficiently organize and execute all maintenance activities, parts purchasing and asset management. Their products are used by thousands of asset-intensive businesses around the world to transform their maintenance operations, eliminate waste and costly downtime, and manage risk.
The robust technology platform also enables partners to build innovative cloud and mobile CMMS solutions for their customers, and participate in the on-going maintenance-related revenues associated with the products and equipment they sell. For more information about Maintenance Assistant please visit: http://www.maintenanceassistant.com.