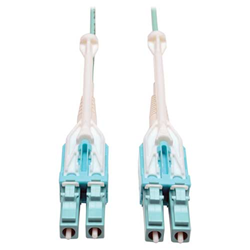 Chicago, IL (PRWEB) September 30, 2014
Tripp Lite, a world-leading manufacturer of power protection and connectivity solutions, has introduced a premium series of LC fiber cables for high-density data center applications. The new N820-T Premium Series LC/LC 10 GbE fiber cables feature convenient Push-Pull tab connectors that allow them to be installed or removed with one hand; no tools needed. Space-saving features like a slim uniboot design and shorter connectors as well as superior construction and components (such as ceramic ferrules) make these cables ideal for LANs, SANs (fibre channel), high-speed parallel interconnects for head-ends, telecommunications rooms and data centers.
Key Features and Benefits:
-- Easy release Push-Pull tab connectors provide maximum accessibility, as they can be installed or removed with one hand; no tools needed
-- Slim uniboot design saves space and makes cable easier to manage
-- Premium-grade ceramic ferrule designed specifically for 10 GbE and faster applications
-- Backward compatible with existing 50/125 fiber
-- Available in multiple lengths
"Our new N820-T Premium Series cables are the optimal solution in high-density applications," said David Posner, Tripp Lite Product Manager. "They are built for accessibility and performance, giving users outstanding quality in an easy-to-use, hassle-free design."
For more information on Tripp Lite's new cables with push-pull tab connectors, visit: N820-T Premium Series fiber cables.
To download images, visit: Tripp Lite Push-Pull Cables product images.
About Tripp Lite
Outstanding product reliability and exceptional service have been Tripp Lite trademarks for over 90 years. Tripp Lite's innovations include the world's first UPS system designed specifically for personal computers, and the world's most trusted premium surge suppressor--the Isobar®--with more than 19 million in use. Tripp Lite maintains the highest level of ready-to-ship inventory in the industry with more than 2,500 different products, including UPS systems, rack systems and cooling solutions, PDUs, PowerAlert software for enterprise-level system management and control, surge suppressors, KVM switches, cables and connectivity products, inverters, power strips and notebook accessories. Headquartered in Chicago, Illinois, Tripp Lite maintains a global presence with fully staffed offices worldwide. Additional information, including a list of Tripp Lite's sales offices and authorized reseller partners, can be found by visiting Tripp Lite's website: http://www.tripplite.com.