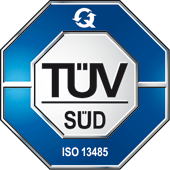 Customers are excited about the expansion of our capabilities and are, more importantly, reassured about the continual improvement of our quality services
Fremont, CA (PRWEB) October 01, 2014
AlphaEMS Corporation, a Fremont, California-based PCB assembly service is now ISO-13485 certified. This internationally-recognized certification was awarded to the company upon demonstration of its ability to deliver PCB assembly services that consistently meet customer specifications and regulatory requirements applicable to medical devices and related industries.
Speaking about the certification, AlphaEMS CEO, Eric Chang said, "We observed a demand from medical companies for quick turn-around, high quality, and reliable manufacturing partners. AlphaEMS wanted to expand our scope of the business beyond its current capabilities of networking, military and industrial manufacturing to include medical devices. ISO 13485 is an internationally accepted standard for a comprehensive quality management system for the design and manufacture of medical devices. Our goal was to improve the manufacturing process and quality control to diversify our customer base."
Explaining the changes AlphaEMS made towards the certification process, Chang said, "In order to achieve this distinction, we demonstrated complete traceability of a product throughout the manufacturing process, improved document accountability and a structured auditing process. Customers are excited about the expansion of our capabilities and are, more importantly, reassured about the continual improvement of our quality services."
The AlphaEMS 48,000 square foot manufacturing facility in Silicon Valley caters to the needs of a broad range of electronic industries, including medical, high-end industrial, industrial pc, military, mobile/wireless, networking, and semi-conductor equipment companies. Stringent quality control and complete testing capabilities assures customers of the highest levels of manufacturing reliability.
The ISO-13485 standards are applicable across all organizational levels at AlphaEMS and to all medical products on the production line.
About AlphaEMS:
AlphaEMS provides printed circuit board prototyping, flex PCB assembly, medium and high volume printed circuit board manufacturing for wide ranging companies throughout the United States. For over a decade, design engineers have relied on our turnkey PCB assembly solutions to improve marketability and competitiveness. AlphaEMS is your one-stop shop to help you plan your project, acquire the proper PCB components, assemble your printed circuit board and system level products. We even provide 7x24 services to meet your urgent quick turn requirements.
AlphaEMS is ITAR compliant certified, ISO-9000 certified, ISO-14000 certified and now ISO-13485 certified. AlphaEMS, an A+ manufacturing service company you can rely on. For further information please contact us at (510) 498-8788.