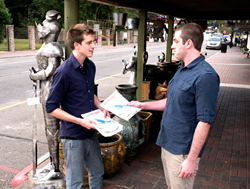 Drug Take Back Days have proven to show a large response within communities and is successful in ridding homes of drugs.
Denham Springs, LA (PRWEB) September 30, 2014
On Friday, September 26, 2014, Narconon Louisiana forwarded the efforts of the DEA to rid communities of unwanted, unneeded and expired prescription drugs by handing out fliers to local citizens informing them of the Take Back Event in the local area and noting the closest drop off location.
Narconon Louisiana efforts were to assist in raising the community's awareness of the dangers of holding onto unused prescriptions which are no longer necessary. Unwanted or unused drugs in the home is a safety concern to persons in that home as those drugs may be accidentally taken or misused or intentionally stolen or abused. By passing out fliers noting the local drop off location, Narconon Louisiana hopes to encourage individuals in the community to get rid of unused or expired prescriptions thereby creating a safer home.
Drug Take Back Days have proven to show a large response within communities and is successful in ridding homes of drugs. If you miss the Drug Take Back Day, the DEA has posted their disposal regulations in the Federal Register on September 9, 2014 and these may be viewed at http://www.regulations.gov . You may also visit http://www.DEA.gov a to find the location of facilities that will dispose of unwanted or unneeded or expired prescriptions.
About Narconon Louisiana New Life Retreat
Narconon Louisiana, was founded in 2006 following the devastation of Hurricane Katrina in an effort to help the thousands of residents affected by addiction who had no available treatment facilities. Located on approximately 15 wooded acres in Denham Springs, it is a non-profit alcohol and drug rehabilitation center licensed by the State of Louisiana. The Narconon drug rehabilitation and education program was founded in 1966 by William Benitez and uses the drug-free rehabilitation and social education methodology based on research developed by American author and humanitarian, L. Ron Hubbard. They are dedicated to eliminating alcohol and addiction through drug prevention, education and rehabilitation. If you know someone struggling with alcohol addiction or drug abuse and would like more information visit http://www.drugabusesolution.com or call 877-340-3602. Any questions you have will be addressed in confidence.