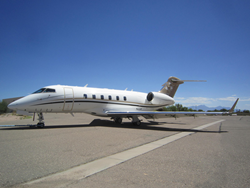 San Jose, CA (PRWEB) September 30, 2014
TWC Aviation, Inc. today announced the addition of a Wi-Fi-equipped Bombardier Challenger 300 to its fast-growing private jet charter fleet. This is the fifteenth jet in the company's charter fleet to offer Wi-Fi service for domestic flights. Based in Concord, California (KCCR), this Challenger 300 is ideally positioned to serve clients throughout the busy Bay Area market, and is priced at a competitive hourly rate.
"As one of the newest jets in a rapidly growing category, the super midsize Challenger 300 is always in high demand," stated Chris Battaglia, Vice President of Charter Services for TWC Aviation. "Its long range, superb interior amenities, and industry-leading cabin size make it the perfect aircraft for business and leisure travelers who accept only the best."
Added Edward Frank, TWC Aviation's Chief Executive Officer, "We have nearly two dozen managed aircraft based at airports throughout the Bay Area, from midsize jets like our Gulfstream G150 to the Challenger 300 to ultra-long range jets like the Global Express. Clients from San Francisco to Silicon Valley and beyond know us as the region's premier jet charter operator."
About This Challenger 300
TWC Aviation's newest Challenger 300 is available for immediate charter to domestic and international destinations and boasts a host of modern amenities. The interior features six club-configured executive seats and a three-place divan. With features like Gogo Biz® wireless high-speed Internet, dual DVD players and cabin monitors, and Airshow 4000, passengers will enjoy continuous inflight entertainment and enhanced business productivity.
TWC Aviation, Inc.
From aircraft evaluation and acquisition to management, charter, maintenance, and sales, TWC Aviation has the industry expertise and experience to provide unrivaled support throughout the entire ownership process. Aircraft operate under FAA Air Carrier Certificate BZUA138N. The company is ARGUS Platinum rated, IS-BAO registered, and Wyvern Wingman certified, and earned a 2014 NBAA Commercial Business Flying Safety Award. The company maintains a FAR Part 145 Repair Station at Van Nuys Airport. More information is online at http://www.twcaviation.com.