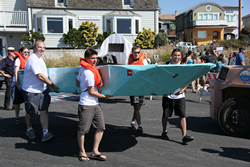 We build websites with the same passion, accuracy and professionalism.
Santa Cruz, CA (PRWEB) September 29, 2014
Launch Brigade, a Bay Area web design firm, recently entered the inaugural Santa Cruz "Cardboard Kayak Regatta" and their boat, "Too Big To Fail," was first to cross the finish line. The boat was built and piloted by Launch Brigade, and the race was held on Sept. 14.
"Not only does this show we have a great team, but that we pay a lot of attention to the details," said Launch Brigade CEO Chris Miller.
The rules were strict and the competition was fierce. Nine teams competed in the "Build at Home" class with less than three weeks to complete their boats. Materials were limited to corrugated cardboard, glue, tape and water-based "paints."
"The main consideration for our boat was utilizing the optimal hull shape which provided maximum stability and buoyancy with a slight sacrifice in speed. Beyond those basic design requirements, everything else was really engineered on the fly," said Miller.
Competitors included the UC Santa Cruz Community Boating Center, which was rumored to have used computer models to create their unique boat design.
"We knew we needed to create a rigid structure with reinforcements in just the right places in order to distribute the load (600+ lbs of team members)," said Miller. "That and the right choice of water-based coatings to prolong water saturation were key to making it through the race."
After the team crossed the finish line, Miller joined the team in a victory lap further stressing the now soaking hull, but the boat held up as expected. The team invested over 100 person hours into the build, working nights and weekends.
"I entered Launch Brigade into the race as a fun team building exercise, and after many hours of hard work that ultimately paid off, I realized how much the boat build represented the work our team does every day," said Miller.
Event organizer Liz Croft said, "The sportsmanship, ingenuity and energy were truly ones for the books, and we cannot wait to bring the event to life a second time and beyond."
Miller added, "We build websites with the same passion, accuracy and professionalism."
About Launch Brigade:
Launch Brigade is a premier web design and development firm in the San Francisco Bay Area. Known for their attention to detail and unique mobile-friendly website designs, Launch Brigade also offers custom e-commerce solutions, web application development and marketing services.