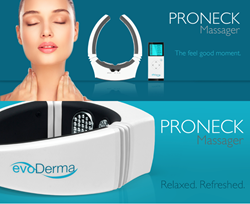 Perfect for office workers, travellers and comfort enthusiasts alike
Montreal, Quebec (PRWEB) October 01, 2014
Perfect for office workers, travellers and comfort enthusiasts alike, PRONECK is among the most high-tech in luxury relaxation tools.
Everyday life and work demands can take a physical toll on the human body over time. Sustained emotional and physical stressors tend to gather around the neck and shoulders, creating strain and tension in these muscles. With this in mind, PRONECK incorporates massage techniques that are traditionally used in professional spas and applies them to this compact device for optimum benefits that can be achieved at home.
Wireless and re-chargeable, with adjustable wings to fit any neck size, the PRONECK Massager is a safe and soothing massage system. Heat massage, vibration, low frequency electric impulses and range of intensity are selected from a sleek and stylish, pocket-sized remote control. Its sophisticated technology permits the user to personalize their treatment by allowing them to choose from six alleviating computerized programs.
So sit back, relax, and revel in the PRONECK experience, the perfect feel good moment.
About evoDerma
Based in Montreal, Canada, evoDerma Inc. is a beauty provider that specializes in leading-edge IPL hair removal, skincare, and well-being technology. EvoDerma has successfully created the latest in high quality aesthetic devices with style and comfort in mind. Designed for at home use, evoDerma's professional-grade products are known throughout the industry for their reliable reputation as well as their iconic design. Make sure to connect with evoDerma on Facebook to join the #StayAmazing community.