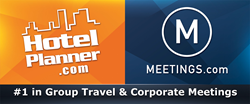 Corporate and leisure travel groups are embracing HotelPlanner and Meetings.com as a trusted partner when searching for hotels
London, UK (PRWEB) September 30, 2014
Entering into its second year of operation, HotelPlanner and Meetings.com are pleased to announce the expansion of its business in the United Kingdom (UK) and Europe. In the UK, the company has expanded its London office with the addition of Rob Foster and Syrine Bouras. Mr. Foster has extensive experience in group sales and operations management with Arsenal Football Club and Marriott Hotels. Rob will be responsible for the UK and Ireland markets. Syrine will oversee the Middle Eastern markets.
In order to better service HotelPlanner and Meetings.com's increased group travel demand, the company has added seasoned Group Planning Professionals for its most popular European group travel destination cities: Frankfurt, Amsterdam, and Barcelona. In 2015, the company expects to further expand its regional planners based in the UK and Europe as it has done in all major and secondary cities in North America.
"Corporate and leisure travel groups are embracing HotelPlanner and Meetings.com as a trusted partner when searching for hotels," said Tim Hentschel. "Our company believes in providing localized services which means having expert local staff in place to work with clients and hotels. Our company offers the best in class technology, multi-language capabilities, and local group travel experts to make it easy for hotels and clients to find group hotel space at the best possible price in any city worldwide."
For information, contact Bruce Rosenberg at (818) 661-0244 or at Bruce.Rosenberg(at)hotelplanner(dot)com.
About HotelPlanner
HotelPlanner.com provides online services to the global group hotel sales market. Its service ensures the lowest rates by allowing customers to receive quotes online directly from hotel group sales managers. The company also provides mobile applications for booking group hotel reservations. Its services allow customers to book hotels for business meetings, conferences, conventions, family reunions, weddings, extended stays, tours, military reunions, church events, and group travels. HotelPlanner.com was founded in 2002 and is based in West Palm Beach, Florida. The company opened its European headquarters in London, United Kingdom in 2012 and also plans to open an office in Hong Kong in the fourth quarter of 2014.
About Meetings.com
Meetings.com focuses on business travel and helping corporate event planners book space for meetings plus hotel rooms. The mission of Meetings.com is to be the premier site for information on meeting and banquet venues plus hotels around the world. Through direct relationships with the leading hotels, meeting and banquet venues around the world, Meetings.com will quickly find clients great rooms and space for a great price. Through combining technology with their experienced client-focused team, Meetings.com provides exceptional service to help each client select the optimal hotel or venue and has the ability to develop an exclusive corporate hotel travel program always delivering a highly competitive price for their hotel travel needs.