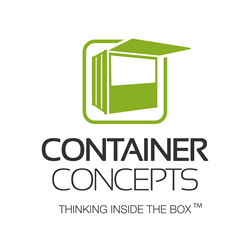 ...providing businesses a way to construct and express themselves in a sustainable way.
Santa Barbara, CA (PRWEB) October 02, 2014
"Thinking inside the Box™" is the tag line Container Concepts' founders Robb Ferer and AJ Barker have coined, but it's thinking outside the box that has helped launch this eco-friendly, vendor-driven company into the food service and retail industry.
Container Concepts designs, builds, and sells refurbished, recycled shipping containers to be used as permanent and semi-permanent, fully self-contained, restaurants, retail shops, event vending spaces, and more. Each box is modified to suit the needs of the individual client.
To get the new 2014 Box Catalog, click this link.
Ferer and Barker, both restaurant consultants, teamed up at the National Restaurant Association trade show in Chicago. They founded Container Concepts as a company that provides turnkey eateries for businesses wanting to test a new concept or expand their brand in a sustainable and affordable way.
"The boxes provide economic viability where it may have not existed before," Ferer says, explaining that the boxes could be used to build a semi-permanent food/retail hub in an up-and-coming neighborhood, on the site of a future development, or on a vacant lot. The boxes can be used "on the grid" or off.
Similar in permitting to the food truck craze, the boxes are configured to the specific eatery's needs and to the local health codes required by the city or state where the boxes will be located. Other ideas? Expanding restaurant brands by allowing companies to sell the boxes to franchisees as a package, creating brand expansion and business opportunities without the hefty price tag.
Container Concepts doesn't stop at food service. "The possibilities are endless," Barker says. They've designed boxes for commercial retail; flower, fruit, and vegetable vendors; clothing vendors; concert organizers (ticketing and restrooms); contractors (on-site offices); and much more, including plans for designing pop-up medical clinics and emergency food kitchens to be dropped in disaster zones for organizations like the Red Cross and Doctors Without Borders.
"It's our way of being socially conscious," Barker says, adding their work with nonprofits is just one of the ways Container Concepts sets themselves apart from other container brands. The main difference of their company is providing businesses a way to construct and express themselves in a sustainable way.
The founders of Container Concepts, as well as a team of consultants, work hand in hand with clients from start to finish. From envisioning how a box would benefit the client, to designing the interior and exterior, to working with America-based manufacturers and aiding in installation, Container Concepts provides unique functional marketing by fitting brands with a vehicle to expand their identity.
Just some of the options available to outfit a box: hydraulic doors, roof-mounted solar panels, fold or swing out awnings and sections, HVAC, and much more. They can be completed in 10-12 weeks, depending on the complexity of the concept. Check out their website for a full list of options, as well as renderings of different box models and more about the company. They also have a great promotional video:  http://bit.ly/acontainerstorywb1 
The boxes provide an eco-friendly and inexpensive vending and marketing solution for independent operators and brands. "The versatility and low cost of using the containers allows for many opportunities as a unique, innovative vehicle to expand into new markets or local events," Ferer says.
Contact Container Concepts if you have an empty space in a commercial zone or if you want to create a business in a box. Container Concepts is located online to obtain a quote http://www.conceptinabox.com.
For more information contact:
Container Concepts™
(888) 427 4014
info(at)conceptinabox(dot)com