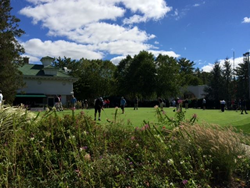 Without our generous supporters, many of our clients would find themselves in a much different place during their recovery.
Paramus, NJ (PRWEB) September 30, 2014
Care Plus Foundation, Inc. ("CarePlus Foundation") the fundraising and advocacy arm of Care Plus NJ, Inc. ("CarePlus"), held their annual Golfers Give Back charitable golf outing last week. The organization is pleased to report record giving just under $90,000 plus commitments for support of next year's outing.
The annual event – held this year at Edgewood Country Club in River Vale, NJ – offers an opportunity for local businesses and supporters of CarePlus to enjoy a day of golf, plus food and prizes throughout the day, culminating with a cocktail hour, dinner, an auction and additional prizes.
The organization reports that 100% of the proceeds benefit CarePlus clients directly through their recovery by funding offer training and education programs as well as providing assistance with client medication, housing, and continuing education.
CarePlus President/CEO Joseph Masciandaro noted that, "Without our generous supporters, many of our clients would find themselves in a much different place during their recovery. This support is critical to opening doors for these individuals, and allowing them to move forward with their lives and contributing to society."
This year's major sponsors included Inserra Supermarkets, Columbia Bank, the Fatigati Family, Roy W. Walters & Associates, Accredited Lock & Door Hardware Co., and Stanley Security Solutions, plus many others who contributed prizes for the silent auction and tricky tray raffle.
Guests included devoted supporters plus many individuals who attended for the first time. A few celebrities were also among the guests, including legendary New York Yankee Willie Randolph and former NY Giants offensive tackle Karl Nelson.
Masciandaro was pleased with the turnout, and the added enthusiasm from sponsors and attendees. Health and Wellness news site Pazoo.com was so enthusiastic about the event that they have already committed to a $5,000 sponsorship for next year's outing.
"We are grateful for supporters like Pazoo.com who go over and above to sponsor and attend with great enthusiasm. Through their participation at the event, they donated back their winnings from the 50/50, then pledged their support for next year's event. You can't beat that type support," Masciandaro stated.
This was the third time the Foundation held the event. Foundation representatives noted they are already planning next year's event and noted that any requests for sponsorship or questions about the event should be directed to the Foundation office at 201-986-5070.