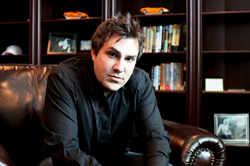 Look for devices that use established, proven security measures, such as public key cryptography, to ensure that the information the devices contain and collect remains secure
Scottsdale, AZ (PRWEB) September 29, 2014
With Cisco projecting 50 billion connected devices by 2020, the Internet of Things is becoming reality. Jason Hope, entrepreneur, philanthropist and technology expert, has long been a proponent of the Internet of Things, but he joins other technology experts in warning about the potential security issues of this phenomenon. Even just a simple connected printer may open the door to a hacker to enter a network.
"The Internet of Things will make life easier and technology more intuitive, but it needs a framework on which to add security protocols. Without the right security measures in place, we will be surrounded by devices that know intimate details about us and are left open to those who might want that information for unscrupulous reasons," warns Mr. Hope.
When these devices are hacked, the repercussions are quite personal. This past year lone has seen hackers talking to babies in their sleep through connected baby monitors or video games loaded onto a home network through a printer and similar situations.
The problem, warns Jason Hope, is the lack of an industry-wide security standard for the Internet of Things. "Because the industry has not yet accepted a standard, consumers need to shop wisely. Look for devices that use established, proven security measures, such as public key cryptography, to ensure that the information the devices contain and collect remains secure."
As the Internet of Things develops, so will security protocols. Because many of these devices are so personal to the user, biometrics may become standard. Using fingerprint scanning chips, for example, combined with a PIN or key card number to access a home security network may be the best way to protect these systems.
The good news is that hacking personal devices does not offer much benefit to hackers, who are looking for credit card and Social Security numbers. "Strong passwords and antivirus software will remain relevant," states Hope. "The difference will be the need to change the password on things like your watch or your car in addition to your email account."
About Jason Hope
Jason Hope is an entrepreneur and technology expert and Arizona native. Through his business and technology success, he has been able to devote much of his time and income to supporting the local community and supporting biotechnology firms searching for disease cures. Hope currently runs his businesses and charitable efforts from his home in Scottsdale, Arizona. For more information visit http://www.jasonhope.com.