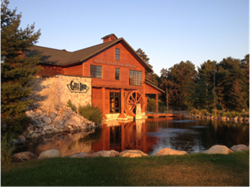 This place is all about crafting top-of-the-line beer and great times.
NISSWA, Minnesota (PRWEB) September 29, 2014
There is a celebration on tap at Gull Dam Brewing that has the local area buzzing. Gull Dam Brewing announced today it will host a grand opening celebration during the Gull Lake Oktoberfest on Saturday, October 11 from 12 noon to 11:00 p.m. at the brewery located at 23836 Smiley Road, in Nisswa, Minn.
"This event and the brewery itself could not have happened without the support of the community who has had our backs throughout the process," said Head Brewer Luke Steadman. "Not only has the local support been fantastic, the ingredients we use to make our beers come from the local area too. This is a true partnership between a business with a long-range plan and a community that loves great beer and is anxious for a new destination."
Gull Dam Brewing also announced today two popular musical acts will help them celebrate the opening of their brewery. Polka band, the Jolly Zuks will take the stage from 1 to 5 p.m. and blues band Lamont Cranston will perform from 7 to 10:30 p.m.
"As one of the first craft beers to call the Nisswa Lakes Area home, the celebration must be done right," said Mark Anderson, who along with his wife, Barb, owns Gull Dam Brewing. "Our beer is for all tastes, so we wanted our music to follow suit," he said. "We are proud to have two very different and recognizable musical acts coming to help us celebrate our opening. This event is our gift to a community who has supported us every step of the way to help us achieve our dream of owning a brewing company with local roots and long-reaching appeal."
The Jolly Zuks have been entertaining music fans for more than 30 years with their polka music.
Since the 1960s Lamont Cranston has been entertaining fans in Minnesota and across the country with their blues rhythms. They have shared the stage with many famous acts including opening for the Rolling Stones.
The Gull Dam brew house, taproom and event center offers 8,500 square feet of event space on three levels; plenty of room for attendees of weddings, parties, corporate events and countless other special occasions. The Oktoberfest celebration and a stop on coinciding Pub Tour are just the beginning of events slated for the Gull Dam facilities.
"This place is all about crafting top-of-the-line beer and great times for locals and those just passing through," said Jon Lehmann, Gull Dam's director of operations. "This area needs additional first rate event space that can accommodate a variety of fun festivities. We can facilitate this need with our beer as a centerpiece."
Gull Dam Brewery and Taproom Grand Opening Oktoberfest At-A-Glance:
What: Gull Dam Brewing will open its doors as one of the Nisswa Lakes Area's only full-scale brewery and taproom. The celebration will include inauguration of their first four Gull Dam craft beers and music by The Jolly Zuks and Lamont Cranston.
When: Saturday, October 11 from 12 to 11:00 p.m.
Where: Gull Dam Brewing, 23836 Smiley Road in Nisswa, MN 56468
Who: Polka band The Jolly Zuks and blues band Lamont Cranston will perform at the event.
About Gull Dam Brewing:
Gull Dam Brewing is a locally owned and operated microbrewery and taproom in Nisswa, the heart of Minnesota's Lake Country. With the capacity to produce 2,000 barrels of beer per year, Gull Dam relies on locally sourced ingredients, allowing the Gull Dam Team to deliver on its brand promise of "Great Times – Exceptional Craft Beer." To learn more, follow us on Facebook at Gull Dam Brewing or go to our web site http://www.gulldambrewing.com
# # #