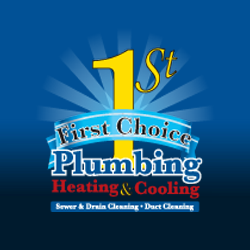 By converting to natural gas, you are reducing greenhouse gas emissions and improving the air quality in your community.
(PRWEB) October 02, 2014
If you are looking for a more efficient and cost-effective energy option, an oil to gas conversion is something to consider. There are many advantages in switching from oil to natural gas. While costing less than oil, an oil to gas conversion with 1st Choice Plumbing, Heating and Air Conditioning also requires less maintenance while helping conserve resources.
According to the American Gas Association, natural gas is the most popular form of home heating in the United States. Many new single-family homes are utilizing natural gas rather than oil and have begun to take notice of natural gas' many advantages.
In addition to its cost effectiveness, natural gas is one of the cleanest burning fuels available. Converting to natural gas reduces greenhouse gas emissions and improves the air quality in surrounding communities. Natural gas produces fewer emissions of sulfur, carbon and nitrogen than oil, and it leaves almost no ash particles after burning. The use of natural gas also helps to reduce smog and acid rain. When choosing to make an oil to gas conversion, you are actively choosing to create a greener environment for your family and your neighborhood.
Converting from oil to gas is simpler than ever, as many energy providers have streamlined the process and have established a department dedicated to oil-to-gas conversion projects. Through this new, convenient process, homeowners can now have a one-stop resource, making the switch to gas easier than ever.
Regardless of its use for heating or cooling, natural gas is always a reliable service. Because natural gas is piped safely and directly into buildings, natural gas will always be there to fuel any home or office as needed.
1st Choice Plumbing, Heating and Air Conditioning offers 100% financing on any job, including oil to gas conversions, to allow for flexible payments that work around the customer's lifestyle. With no interest for one year, no down payment and no annual fee, this financing system makes switching from oil to gas much easier and more affordable.
For more information about oil to gas conversions, call 1st Choice Plumbing, Heating and Air Conditioning at 201-288-0390 today!