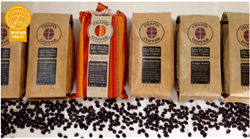 For every bag sold, Chapín buys three meals for children in Guatemala, a country where 49% of children suffer from chronic malnutrition
Chicago, IL (PRWEB) October 01, 2014
On Sept. 9, Chapín Coffee was selected as one of two Chicago-based finalists in the Martha Stewart American Made Awards (MSAMAs), an annual competition in recognition of innovative small businesses across the country in the fields of crafts, design, food and style.
"We're honored to be recognized as a finalist in the MSAMAs, which celebrates entrepreneurs and artisans who are creating beautiful, inspiring products that are improving local communities and changing the way we shop, work and live," says Jennifer Alexander, founder of Chapín. "We're excited to utilize this platform to increase awareness of our brand and empower our mission to feed children with each bag of coffee we sell."
Chapín was launched earlier this year as a socially conscious coffee company that provides consumers with a new kind of coffee experience. For every bag sold, Chapín buys three meals for children in Guatemala, a country where 49% of children suffer from chronic malnutrition. In its first 6-months of operations, Chapín celebrated 1,000 meals provided to children through Feed The Dream, a Glenview, IL-based non-profit.
As one of 1,000 finalists in the MSAMAs, Chapín encourages people to visit the contest website http://tinyurl.com/MSAMA-Chapin to vote in the Audience Choice Awards and help further their mission. Find out where you can purchase a bag of Chapín Coffee and support the cause online at http://www.chapincoffee.com. Join the Chapín Coffee movement on Facebook at http://www.facebook.com/ChapinCoffee, and Fuel Your Day With Purpose™
For more information contact: Jennifer(AT)chapincoffee.com