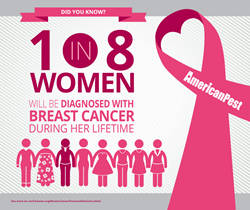 Washington, DC (PRWEB) October 01, 2014
The interest, concern and subject of breast cancer has captured the attention of people worldwide. Of whom, hundreds of thousands will unite this October with a determined resolve to bring increasing awareness to preventing this deadly disease.
American Pest has a unique opportunity to give back to its community by announcing its partnership with Breast Care for Washington, a D.C. organization that provides no-cost mammograms, clinical breast screenings, and access to ongoing breast cancer treatment.
It has been determined that one in eight women will be diagnosed with breast cancer during her lifetime and American Pest is committed to making it possible for women to receive advanced breast cancer screenings and breast education regardless of the ability to pay.
American Pest officials have stated, "For each residential program service that we provide during the month of October, American Pest will donate $1 to Breast Care for Washington, a D.C. non-profit organization that assists uninsured women by providing no-cost mammograms, healthcare education, clinical breast examinations and patient navigation services." American Pest is pleased to bring further awareness to breast cancer prevention in our nation's capital.
Breast Cancer for Washington was founded in 2012 and is a newly incorporated non-profit breast cancer screening organization. The organization's purpose is to enhance access to breast cancer care and treatment among medically underserved women in the greater Washington D.C. area. 3D mammography is the most advanced technology available for breast cancer screening and Breast Care For Washington is the first and only provider with the latest 3D technology east of the Anacostia River.
American Pest also encourages everyone to share your support by visiting http://www.breastcareofwashington.org and making a charitable donation.
###
About American Pest
American Pest, founded in 1925, is a professional pest management company providing residential, commercial, and industrial pest control services to Maryland, Northern Virginia and the D.C. Metro. For more information, please visit http://www.americanpest.net or follow American Pest on Facebook or Twitter.