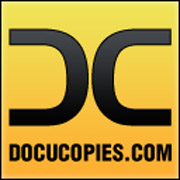 Integrating this function into our website simplifies the process, gives our customers greater versatility and avoids unnecessary delays in order processing
HUDSON, WISCONSIN (PRWEB) September 29, 2014
As "the cloud" becomes an ever-more integral part of both personal and business life, the online printing company Docucopies.com just announced a new feature that allows customers to upload files directly to their servers via Dropbox and other online file-sharing services.
When going through the ordering steps, customers can now sign in to their Dropbox accounts through the Docucopies website and select files to upload. Alternatively, they can enter a URL to download files from other websites and services or upload their files directly from their computers or via FTP as always.
Previous to this, customers not uploading directly from their computers needed to email a link, which then had to be manually scanned for security threats before being transferred to the Docucopies servers.
"Integrating this function into our website simplifies the process, gives our customers greater versatility and avoids unnecessary delays in order processing," says Marketing Director/Vice President Jeff Corbo.
Docucopies began in 1982 as a brick-and-mortar printing business in Western Wisconsin. Over the last decade, they have grown to become one of the nation's leading online printing companies with some of the most competitive pricing in the business. They print exclusively on digital presses, which is part of what allows them to maintain the lowest prices on small- to medium-sized print runs.
For more information on Docucopies.com and their low-cost digital color printing services, visit them online at http://www.Docucopies.com or call toll-free (877) 222-4842.