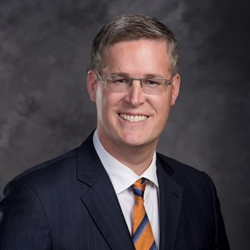 IT research & advisory services specific to the Gaming and Hospitality market is an innovative step in the right direction for both the analyst and Gaming & Hospitality community
Toronto, Ontario (PRWEB) September 30, 2014
InfoTech Research Group is pleased to announce the addition of Larry Fretz as the GHRC Practice Lead. Previously the VP IT/CIO of Palms Casino Resort and the Cosmopolitan of Las Vegas, Mr. Fretz has also held executive leadership positions with Niagara Casinos (Fallsview Casino Resort & Casino Niagara) resulting in a respected knowledge & experience of gaming and hospitality systems and understanding of the industry's challenges.
"I'm very excited to have Larry join our organization. His experience substantially enhances our ability to deliver the best research in the world." Said Scott Bohannon, CEO, Info-Tech Research Group. "Larry has over 35 years of experience, 10 of which in the Gaming & Hospitality industry. This step forward shows commitment to quality research and accelerating business results for Casinos and Tribal Communities alike."
"IT research & advisory services specific to the Gaming and Hospitality market is an innovative step in the right direction for both the analyst and Gaming & Hospitality community," Says Larry Fretz, GHRC Practice Lead, Info-Tech Research Group. "Casinos and Tribal communities are often overlooked in regards to analyst advice and specific delivery services and so I look forward to growing these important segments with Info-Tech Research Group."
Mr. Fretz has also shared his experiences and thought leadership through writing, speaking engagements and consulting for gaming & hospitality companies. He sits on the advisory boards of Gaming & Leisure magazine and SenSen Networks, a provider of the world's most accurate transportation infrastructure & casino table game video analytic solutions.
About GHRC
Info-Tech's Gaming & Hospitality Research Center (GHRC) focuses on providing practical and tactical advice for CIOs, VPs and Director level IT professionals within the casino & resort market. Evaluating vendors and products specific to the Gaming & Hospitality industry is a revolutionary way to help evaluate current and future technology. Increased value and accelerated business results can be realized when combined with GHRC consulting services that use a structured, industry best practices approach across four major IT focus areas: IT/Business Alignment, Applications, Infrastructure and Risk Management.
About Info-Tech Research Group
With a paid membership of over 34,000 members worldwide, Info-Tech Research Group (http://www.infotech.com) is the global leader in providing tactical, practical Information Technology research and analysis. Info-Tech Research Group has a seventeen-year history of delivering quality research and is North America's fastest growing full-service IT analyst firm.