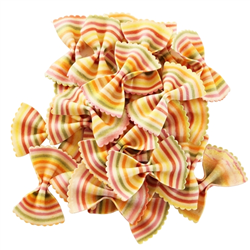 "Go with olive oil-based sauces infused with herbs, and a nice protein such as chicken or shrimp..."
Youngstown, OH (PRWEB) September 30, 2014
Italian food specialist, Gourmet Italian, is pleased to announce the company now carries a variety of Donne Del Grano Pasta options, all available at GourmetItalian.com. This delicious import is as beautiful as it is tasty, with pasta creations including a variety of colorful options to dress up lunch or your next dinner party.
Donna Del Grano Pasta is handmade from quality durum wheat using techniques that have been applied for well over a hundred years. In fact, the term "donna del grano" means "women of wheat," and was named in homage to the women of Puglia, Italy, who have made Italian food of quality ingredients for centuries.
The quality of the pasta is evident by its appearance. The wide variety of intricate, colorful options are created using natural products to infuse the vivid colors—such as spinach for green coloring—and when cooked, the pasta holds its shape and color, unlike alternative products that cut corners.
Today, the company produces the pasta in a variety of traditional and artisanal shapes, ranging from penne and bowtie, to "spugnole" and "lanterne" styles, among others.
Some of Donna Del Grano Pasta's more unique and beautiful pasta creations include:

"When it comes to pasta that is both tasty and beautiful, you can't top Donna Del Grano," says Gourmet Italian owner. "It's so beautiful, it makes cooking easy. Go with olive oil-based sauces infused with herbs, and a nice protein such as chicken or shrimp, for a dish that will look as amazing as it tastes. Let the beauty of the pasta do the talking!"
Donna Del Grano Pasta is available for purchase on the Gourmet Italian food website.
Wholesale Food Network LLC operates out of Youngstown, Ohio, and has been doing business under the "Gourmet Italian" name since January 2009. For more information on any of their products, please visit the Gourmet Italian food store website.