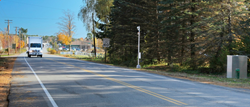 WIMplan saves money and electricity with low-power consumption with battery backup.
Columbus, OH (PRWEB) October 15, 2014
METTLER TOLEDO is now bringing its global expertise of weigh-in-motion technology to assist government entities in collecting traffic data. The new WIMplan® advanced traffic-data collection system provides timely, complete, and accurate data for traffic planning. The stand-alone weigh-in-motion scale system is a cost-effective solution used to measure and classify traffic flow in one or several locations.
The data can then be analyzed to:

Determine traffic patterns on particular roads
Plan for potential roadway improvement projects
Determine the placement of future weigh stations of virtual weigh-in-motion sites.
WIMplan combines comprehensive data collection with efficient connectivity and powerful software. The standard system can monitor up to four lanes of traffic, but it can be extended to handle up to eight lanes. Data is communicated via cell modem or with optional fiber optic and Ethernet connectivity. WIMplan software supplied with the traffic-planning system handles site configuration tasks and real-time data monitoring. It also includes a diagnostic utility for troubleshooting, as well as calibration and power management features. Its comprehensive reporting capabilities are easily configured using an intuitive wizard-based interface.
The system features a small footprint with rack-mounted electronics to make mounting easy, whether it is on a small concrete foundation or on a pole. WIMplan saves money and electricity with low-power consumption with battery backup. Additionally, the system comes with software designed specifically to handle traffic data and roadway management.
To learn more about how WIMplan can benefit your business, visit: http://www.mt.com/WIM
About METTLER TOLEDO
METTLER TOLEDO is a leading global supplier of precision instruments and is the world's largest manufacturer and marketer of weighing instruments for use in laboratory, industrial and food retailing applications. The company is also a leading supplier of several related analytical and measurement technologies. Additional information about METTLER TOLEDO can be found at http://www.mt.com.