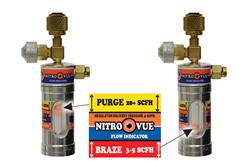 Quality Tools That Go To Work With You®
Ft. Lauderdale, FL (PRWEB) September 30, 2014
Uniweld Products is proud to release a new product video that features the NV1 NitroVue Nitrogen Flow Indicator. Sales Executive, Matt Foster, gives an overview of the NitroVue which allows a technician to control the flow of nitrogen down to 3-5 SCFH. Matt explains why it is important to achieve this low flow and shows the proper way to braze a joint with nitrogen flowing through the line to prevent oxidation.
Uniweld's NV1 NitroVue™ is a unique tool that simplifies the purging of nitrogen during the brazing of copper tubing in Air Conditioning and Refrigeration systems with an easy to read flow indicator label and a precision adjustable valve to control the low flow of nitrogen gas. The bright orange float ball and tube are fortified and protected in the aluminum body with wide open windows for a clear view. The easy to see orange float ball visually confirms the nitrogen is flowing and allows the technician to first "PURGE" the copper lines at 20+ SCFH and then reduce the flow to "BRAZE" at 3-5 SCFH during the brazing process thus conserves its consumption and reduces operating cost. The technician must simply open the valve of the NitroVue™ until the float ball rises to the needed zone.
Uniweld is a U.S. manufacturer of HVAC/R and welding products, and they have released several instructional videos to help educate and promote the proper way to use their tools. Be sure to check out the newest video releases by Uniweld and take a look at their other training videos as well.