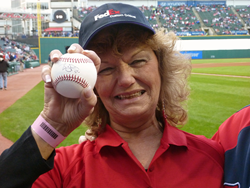 Virginia Sturtevant, driver for FedEx Custom Critical, threw out the opening pitch at the Cleveland Indians "Women In Transportation" event.
Cleveland, OH (PRWEB) September 30, 2014
Virginia Sturtevant practiced her overhand pitch for weeks before Saturday's Cleveland Indians game against the Tampa Bay Rays. As an owner-operator leased to FedEx Custom Critical, she was given the opportunity to throw out the ceremonial first pitch at the game. Her practice paid off and the ball flew over home plate with ease.
Sturtevant was chosen to represent her company at the "Women In Transportation" event hosted by Women In Trucking (WIT) (http://www.womenintrucking.org) Association, Inc. This is the second annual event to honor women employed in transportation careers. FedEx Custom Critical was the top bidder for the first-pitch opportunity in an online auction to support the Women In Trucking Scholarship Foundation (http://www.womenintruckingfoundation.org
Top sponsor of the event, Bendix Commercial Vehicle Systems, Inc. hosted James P. Meil, a Principal Industry Analyst and former Chief Economist for Eaton, Inc. Meil spoke about the importance of the industry in the economy and the forecast affecting trucking in the future.
"The Women In Transportation day at the Cleveland Indians' Progressive Field is intended to bring attention to the many women who enjoy great careers in a male dominated environment," said WIT President/CEO, Ellen Voie. "Virginia is a great example of a woman who not only drives a truck, but owns a successful small fleet with her husband, David," Voie added. "These are the women we are celebrating today."
TMW Systems also sponsored the event and invited both staff members and affiliates to the game. Other event sponsors include FedEx Custom Critical, TA/Petro Stopping Centers, and T & K Logistics.
Although the Indians lost to the Tampa Bay Rays, the enthusiasm wasn't lessened and the attendees appreciated the view from the Terrace Court as they enjoyed snacks and beverages during the event.
Women In Trucking Association, Inc. is a nonprofit association established to encourage the employment of women in the trucking industry, promote their accomplishments and minimize obstacles faced by women working in the trucking industry. Membership is not limited to women, as 16 percent of its members are men who support the mission. Women In Trucking is supported by its members and the generosity of Gold Level Partners: Bendix Commercial Vehicle Systems, Daimler Truck NA, Great Dane Trailers and Walmart. Follow WIT on Twitter, Facebook or LinkedIn. For more information, visit http://www.WomenInTrucking.org or call 888-464-9482.