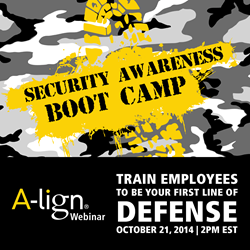 Tampa, FL (PRWEB) October 01, 2014
Analysis of recent data breaches and results from A-lign's own security assessments point to end users' lack of knowledge of information security and reaction to potential threats as a leading cause of system breaches and data loss.
A-lign's boot camp was designed as a proactive way for participants to get a crash course in information security through rigorous course objectives that will strengthen their knowledge and improve their reaction to potential threats.
During the 60-minute presentation, attendees will be taken through course objectives that are designed for them to:

Gain an understanding of social engineering and other attacks on the user community
Learn how users are being exploited in data breaches
Identify the reasons why users are easy targets
Improve upon security training to strengthen your awareness program
Register for the event at the link below:
Webinar: Security Awareness Boot Camp (Tuesday October 21, 2014 at 2pm EST)
About A-lign Webinars: A-lign presents quarterly webinars related to compliance, which are free to the public and also qualify for CPE Credit.
A-lign is a registered sponsor for Group-Internet Based CPE Programs and is listed on the National Registry of CPE Sponsors. Please indicate on the registration form if you wish to receive CPE credit.