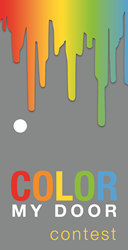 MAUMEE, OHIO (PRWEB) September 30, 2014
From October 7 through 27, 2014, Therma-Tru Corp. has a variety of ways for homeowners to win cash prizes allowing them to add color to their exterior doors. The company will host a "Color My Door" Contest and Sweepstakes offering a total of $2,000 in cash prizes* when homeowners participate at the AsktheBuilder.com website.
To enter the "Color My Door" Contest, homeowners must submit a photo of their exterior door from October 7 through 19, 2014. The photo must show how the door can benefit from the addition of color to enhance the overall curb appeal of their home. Tim Carter, host of AsktheBuilder.com and color expert Kate Smith of Sensational Color, will select seven finalists from the submitted photo entries. Those finalists will be posted to AsktheBuilder.com from October 20 through 27, 2014 for public voting.
"The entry receiving the most public votes will get a $1,000 cash prize to add color to their front entry door," says Brad Johnson, vice president of marketing for Therma-Tru Corp. "Then, the second place winner receives $400 cash and the third place winner receives a $300 cash prize. This easy-to-enter contest makes it fun and simple for the winners to select and add color to their home exteriors."
To participate in the "Color My Door" Sweepstakes, participants must go to http://www.AsktheBuilder.com and follow instructions to visit three specific pages on the Therma-Tru website. Players then answer questions related to those pages and are automatically entered to win a cash prize of either $200 or $100. The online sweepstakes runs from October 7 through 27, 2014 with the two lucky winners being selected on October 28, 2014.
"These fun promotions shine a spotlight on the value of adding color to entry doors in order to enhance the overall curb appeal of the home," says Johnson. "As part of the promotion, Kate Smith will be unveiling her hot new door color selections for 2015. She'll provide insights into what each of the trendiest door colors say about the homeowner selecting those colors, and how colorful home exteriors can be created from the 'top down' to make a welcoming home exterior.
"Tim Carter will also feature video interviews on AsktheBuilder.com with Kate on door color selection and other colorful advice for the home. This promotion provides homeowners with both inspiration and tips for adding color to their homes along with cash prizes to help them add that color!"
For homeowners looking to replace their existing doors with long-lasting colorful entry doors, Therma-Tru offers the Classic-Craft® Canvas Collection® and Pulse® line of doors. Each smooth surface door can be painted on both the interior and exterior.
"So many homeowners live with doors that don't reflect their true personalities," says Smith, president of Sensational Color. "They may have 'inherited' a door when they purchased their home or the existing door may be old and outdated."
"Since the entry door represents such a large part of a home's curb appeal, it's important to select one that accurately reflects the style of the homeowner. Whether a person dreams of a brightly-painted purple contemporary door to match their 'free spirit' mentality or a conservative black door to reflect their reserved manner, the entry door color should reflect the homeowner's personality to create a welcoming home environment."
About Therma-Tru
Therma-Tru is the leading entry door brand most preferred by builders and remodelers. Founded in 1962, Therma-Tru pioneered the fiberglass entry door industry, and today offers a complete portfolio of entry and patio door system solutions, including decorative glass doorlites, sidelites and transoms, and door components. The company also offers low-maintenance Fypon® urethane and PVC products. Headquartered in Maumee, Ohio, Therma-Tru is part of Fortune Brands Home & Security, Inc. (NYSE: FBHS).
*No purchase necessary; must be 18+ and a homeowner. The "Color My Door" Contest and Sweepstakes sponsored by Therma-Tru Corp. and administered by AsktheBuilder dot com begins on October 7, 2014 at 7:00:01am Central Time ("CT") and ends on October 27, 2014 at 6:59:59am CT. Cash prizes for the Contest include $1,000, $400 and $300. Cash prizes for the Sweepstakes include $200 and $100. Void where prohibited; see http://www.AsktheBuilder.com for rules, regulations and full details.*