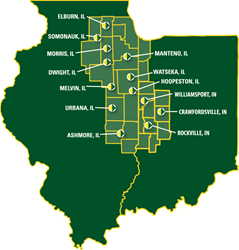 "We are pleased to be a part of these communities and look forward to serving them."Chad Braden - COOAHW LLC
Ashmore, Illinois (PRWEB) October 08, 2014
AHW LLC is pleased today to announce the addition of three Wright Implement Company locations in western Indiana that are now part of the AHW family. Chad Braden with AHW LLC said that the purchase of three Wright Implement stores has been finalized and approved by John Deere. Those stores are located in Crawfordsville, Williamsport and Rockville, Indiana are now operating under the AHW LLC name.
"We are very pleased to serve the Ag community in these markets," said Braden. "AHW is a premier John Deere dealer. We bring with us more resources, more parts inventory, more equipment inventory and our 'Solution Center' technology. We believe we are poised to serve the area in bigger and better ways. There is no doubt that AHW can provide 'Tomorrows Solutions Today' to our customers," he added.
AHW has become one of the strongest and best-resourced John Deere implement dealers in Illinois and Indiana. With the addition of these three stores, the company will now have a total of thirteen locations serving eastern Illinois and western Indiana.
Speaking specifically about the "Solutions Center" Braden said, "The Ag professionals in western Indiana will have immediate access to that program. John Deere equipment is operated using the best in computer and satellite technology. Our Solutions Center is based in Urbana, Illinois with a team of technology professionals who offer in-field phone support for the entire operation. It is the first choice for resolving all AMS equipment problems and AHW LLC is one of only a handful of dealers nationwide offering that service."
"We also want to acknowledge the Wright family for their service to these communities and the Ag customers at large for many years," said Braden. "The Wright stores have been great community partners and we thank them for their years of service to customers in the markets they serve. The Wright Implement customers in Crawfordsville, Williamsport and Rockville really won't see anything different in those stores except for the new AHW signs. "We have a commitment to provide excellent customer service as well. We are pleased to be a part of these communities and look forward to serving them" he concluded.