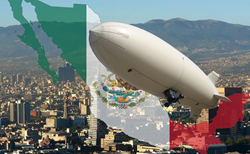 "FAA certification in Mexico is another step on the path to entry-into-service," said Igor Pasternak, CEO of The Aeroscraft Corporation.
Los Angeles, CA (PRWEB) September 30, 2014
The Aeroscraft Corporation (Aeros) today announced they received validation of the 40D 'Sky Dragon' airship's Type Certification from Mexico's Aviation Authorities.
This certification gives the airship permission to fly the skies of Mexico and opens up the Mexican Market for the Aeros' airships "paving the way for deliveries to begin."
The '40D Sky Dragon' is the latest airship model from the Aeros. The Mexican market has shown interest in the 40D airship due to its competitive acquisition and performance. Aeros' latest sale to a Mexican client marks the first Aeros airship to be delivered and operated in Mexico following the certification.
Mexico's civil aviation authority recently validated the FAA-issued Type Certificate (TC) as having met the requirements for safe operation in accordance with the rules and regulations required in Mexican airspace. Since its FAA Certification the 40D Sky Dragon has attracted customers across all mission segments with certification to fly in the U.S., Europe, Asia, and now Mexico.
This certificate marks the company's focus on continued expansion into new markets across the world and the airships global demand. "FAA certification in Mexico is another step on the path to entry-into-service," said Igor Pasternak, CEO of The Aeroscraft Corporation. "The 40D airship will meet their growing needs and we are excited to deliver this segment our leading airship technology."
The '40D Sky Dragon' airship supports numerous airborne missions, providing a quiet and stable aerial platform with long endurance and slow-loiter capabilities often exploited for event video and advertising. As a sensor platform, the airship maintains extended time on station and low operational costs supporting a variety of surveillance missions from anti-terrorism to smuggling interdiction. The flexible 40D 'Sky Dragon' features:

a fly-by-wire flight control system providing exceptional maneuverability and control
reduced requirements for ground handling personnel
stronger and lighter envelope fabrics that improve helium impermeability
###
About Aeros: Founded 27 years ago in the U.S., the Aeroscraft Corporation (Aeros) has grown from a small aerostat production manufacturer to a leading FAA-certified airship producer and R&D firm for the aerospace industry. Aeros has achieved multiple FAA airship type certificates and operates with an FAA Production Certificate, while featuring a product line that includes advanced airships and tethered aerostats utilized in commercial and government applications throughout the world. Learn
more at http://www.aeroscraft.com.
CONTACT:
John Kiehle, Director of Communications (323) 201-8374 or john.kiehle(at)aeroscraft(dot)com
Sarah Hollins, PR Associate (323) 201-8372 or sarah.hollins(at)aeroscraft(dot)com