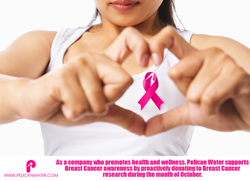 Deland, Florida (PRWEB) October 01, 2014
October is national Breast Cancer Awareness Month—an annual campaign to promote awareness and early detection plans while raising money for breast cancer research. Pelican Water is proud to support Breast Cancer Awareness Month in the effort to find a cure.
Pelican Water also wants to promote the importance of having access to clean, healthy water. Research has shown that contaminated drinking water may be linked to certain forms of cancer.
The Problem of Chlorine in Drinking Water
Virtually all public water supplies have chlorine added during water treatment. While chlorine does kill most bacteria in water, it may also cause health problems over time.
When chlorine combines with organic, carbon-based pollutants in water, new chemicals can result – trihalomethanes, or THMs. There are hundreds of THMs, including carbon tetrachloride, bischloroethane and chloroform. Research by the National Institute of Public Health in Oslo, Norway has determined that some of these THMs can have carcinogenic effects on the body.
There are many other potential contaminants in drinking water that municipal water treatment may not sufficiently remove. These include arsenic, which is linked to many forms of cancer, as well as mercury and lead.
Pelican Water offers a number of affordable water filtration systems that remove chlorine and potentially harmful contaminants from the home's water supply. As an environmentally proactive company, Pelican is proud to offer cleaner, healthier water in association with the Breast Cancer Awareness campaign—a cause we firmly support.
About Pelican Water Systems
PelicanWater.com is the official, factory-direct retail website for Pelican Water Systems, providing professional knowledge and leading technologies in whole house water filtration, countertop water filtration systems, UV bacteria disinfection systems, as well as salt-free water softening and conditioning systems. Pelican Water products use cutting-edge technology and enable customers to go green by eliminating wasteful and harmful salt brine discharge that is polluting our valuable fresh water resources.