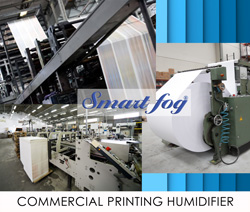 Precise non-wetting commercial humidifiers for printing
Reno, NV (PRWEB) September 29, 2014
Smart Fog, a provider of commercial humidifiers and the most trusted leader in non-wetting humidification systems, is proud to announce that it is exhibiting at this year's Specialty Graphic Imaging Association (SGIA) Expo in Las Vegas, NV, on October 22 – 24 at booth 2697.
"We provide an ideal system for printing that is non-wetting and low maintenance," said Ido Goldstein of Smart Fog. "By maintaining a properly humidified printing facility, profits are maximized because it creates a consistent printing environment and creates a hospitable work environment for employees. Optimum relative humidity levels in the print shop contribute to overall print quality and performance of the printers, while low humidity levels can cause faded or washed out prints and colors not lining up."
Smart Fog will be presenting fully functioning new 2015 models of the ES100 direct space commercial humidifiers. Using the automated system, specially designed for simple installation and low maintenance, printing facilities can achieve the following:

Precise relative humidity control
Eliminate dust and static build-up
Conserve energy and water
No wetting ensured
Eliminate paper-curl and cracking
Reduce web-breaks and mis-register
The SGIA Expo runs from Oct. 22 – 24, starting at 9:30 AM each day. The expo takes place at the Las Vegas Convention Center – Central Hall and attendees can learn about products from more than 500 exhibitors. For more information on how a commercial humidifier can benefit a printing facility, please visit http://www.smartfog.com/printing-humidification.html.
About Smart Fog Inc:
In business since 1980, Smart Fog Inc. is the recognized world leader in the industrial and commercial humidification systems industry. And, all products are manufactured in the U.S. Smart Fog, The Humidification Experts, is a world leader in developing unique industrial and commercial humidifier systems to meet the individual needs of your environment.