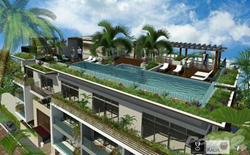 "This will be one of Playa del Carmen's premier condominium residences. Period."
Playa del Carmen, Mexico (PRWEB) September 30, 2014
Horizonte 34 is one of the most anticipated pre construction projects in Playa del Carmen. American Realty is proud to announce its partnership with Grupo Kaua to become one of the preferred brokers for the Horizonte 34 development.
American Realty, established in 2005, has worked with Grupo Kaua on several other major projects in Playa del Carmen in the past 9 years and is proud to continue their working relationship on this new project.
The Horizonte 34 condos are located in central Playa del Carmen, near the tourist center of 5th Avenue and only 4 blocks from the beach. This location, plus the top of the line amenities that Grupo Kaua is known for, have made this a very rapid selling project and American Realty has been instrumental in exposing new clients to the pre construction phase of the development.
The Horizonte 34 building will have a large infinity edge rooftop pool, in addition to lounge and BBQ areas and a well equipped fitness center. Inground parking and 24 hour security are also features that prospective buyers have been attracted to. Construction is anticipated to be complete in spring of 2015, with fully titled units being delivered at that time.
"This is as exciting a project as we have ever been involved with," says Steve Didier, Chief Marketing Officer for American Realty. "Horizonte 34 represents a new dimension in residential options for Playa del Carmen. The location and finish of these condos are second to none and interest has been very high."
For information on these condos or any other real estate related questions, please contact American Realty directly at 303-317-6639. Or visit our website at Playa del Carmen real estate.