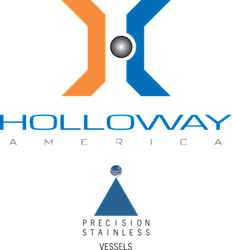 We're excited to discuss custom stainless steel fabrication and advances in processes for life sciences companies."
Springfield, Mo. (PRWEB) September 30, 2014
The custom stainless steel fabrication company HOLLOWAY AMERICA will participate at ISPE Boston Product Show 2014. The Boston Area Chapter of ISPE (International Society for Pharmaceutical Engineering) has booked the 23rd annual, day-long event for Wed., Oct. 1 at Gillette Stadium Clubhouse in Foxborough, Ma. The show promises to be the largest in ISPE Boston's long history, with more than 375 exhibitors already scheduled and upward of 3,000 attendees expected.
HOLLOWAY AMERICA President David Simpson is looking forward to an exceptional turnout: "I'm excited so many people will be at the show this year. With more attendees and exhibitors there, we'll have more chances to talk about custom stainless steel fabrication and advances in processes for pharmaceutical and other life sciences companies." Simpson and his fellow HOLLOWAY representatives will be stationed at Table 1166, near the bar in the East Hall, throughout the day. Attendees can visit the table to learn about HOLLOWAY's fabrication and pressure vessel repair capabilities.
Many biotech and pharmaceutical companies know HOLLOWAY AMERICA as a leading manufacturer of reactor vessels, so ISPE event attendees often ask Simpson about these reactors. "After hearing about a plug flow reactor, a batch reactor, or the other bioreactors we engineer for sanitary chemical processes, we find many visitors want to know if HOLLOWAY can really design more efficient custom reactors for their specific processes. Since the answer is almost always a definitive 'yes,' these conversations generally prove extremely productive and informative for both of us."
In addition to discussing the vessel design and fabrication services HOLLOWAY offers, Sales Engineer and Director of Marketing Randy Colwell will be available to answer questions about on-site tank remediation, Vessel Wellness™, equipment installation and other YOURSITE™ Field Services. "It's crucial for processing companies to have a fabrication and vessel repair resource they can count on right away," said Colwell. He continued, "If a tank is down for any reason, that company stands to lose invaluable time and money; in many cases, production of potentially life-changing drugs is interrupted. Discussing this risk face-to-face at ISPE events lets us show biotech professionals that HOLLOWAY understands the issue. That's why we offer reliable, fast remediation solutions, including our 24/7 TURBOSERVE™ services."
Event Schedule
The ISPE Boston Product Show, which is free of charge for attendees, begins at 10:30 am with the plenary session, featuring the keynote address by Pfizer Senior Director Michael Arnold, R.Ph. The event schedule also includes educational sessions—two tracks held concurrently.
Track A will offer the following educational sessions:

Biotechnology: The Challenge for Tomorrow; 12:30 - 1:30 pm
Water Based Critical Utilities: RO, WFI, Steam; 1:45 - 2:45 pm
Track B will include these educational sessions:

Harder Than It Looks: Projects Executed Concurrently with Manufacturing Operations; 12:30 - 1:30 pm
Successful Project and Organizational Change through Effective Stakeholder Management; 1:45 - 2:45 pm
The complete schedule for the show is as follows:

Plenary Session: 10:30 am - 12:00 pm
Show Floor Opens: 12:00 pm
Career Fair: 12:00 - 5:00 pm
Educational Sessions: 12:30 - 2:45 pm
Young Professionals and Student Social: 3:00 - 4:00 pm
Show Floor Closes: 7:30 pm
The ISPE Boston Product Show 2014 concludes at 7:30 pm, though attendees and exhibitors are invited to an after-show networking social from 7:30 to 9:30 pm at Bar Louie in Foxborough.
For more information on custom stainless steel fabrication, tank remediation or YOURSITE™ Field Services, or for details on the Boston Product Show 2014, contact HOLLOWAY AMERICA at 417.863.0077 or by email at info(at)HollowayAmerica(dot)com.