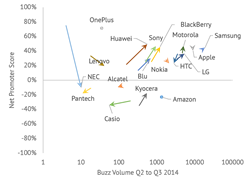 Niche Handset Makers like OnePlus and Blu made serious gains in the US mobile market during Q3 while Amazon fizzled and iPhones flew off of shelves.
Los Gatos, CA (PRWEB) September 30, 2014
Argus Insights will share the details of their latest analysis of global smartphone consumer demand ahead of the Apple Q4 earnings announcement in a free webinar on 7 Oct 2014 at 1:00 PM PST. Can Apple recover from #bendgate and iOS8 bugs to reign supreme once again?
Tracking consumer smartphone interest in global markets, Argus Insights has successfully beat Wall Street estimates of smartphone shipments for major brands almost every quarter for the past two years. With detailed coverage down to individual handsets for China, the US and Europe, Argus Insights is able to identify who is winning the hearts and minds of consumers in real time. Using data direct from consumers, Argus Insights will also report on what is driving shifts in market leadership during Q3 and into Q4 of 2014. We will examine who stands to gain and lose across the entire mobile supply chain from mobile carriers to component suppliers.
More information will be available at a free webinar given by Dr. John Feland on how global smartphone consumers are responding to Apple, Samsung and other manufacturers. Results will drill into what is driving adoption, who stands to win or lose based on how Argus Insights predictive metrics indicate Apples Q4 might play out. Sign up information can be found at
http://www.argusinsights.com/webinars/apple_q4_earnings_webinar.html
Argus Insights is a new type of market intelligence company, founded by tech industry veterans looking for better ways to connect the dots between technology innovation and consumer adoption. Argus Insights sits between traditional research firms, and Social Analytics companies, to provide focused and actionable analysis on where consumers are taking the market, who is winning and why. More than just a buzz meter, proprietary consumer demand metrics have beaten Wall Street estimates on iPhone unit sales 10 of the last 12 quarters. Global coverage of Smartphones, Wearables, Tablets, Home Automation, Internet of Things and more lets Argus Insights bridge intelligence gap between the quarterly forecasts. Real-time analytics cut through the branding buzz to expose how technology and innovation are driving consumer adoption.
Argus Insights offers this timely consumer intelligence through off the shelf reports across markets, access and support to clients' organic teams to wield an advanced suite of executive dashboards and competitive analytics tools, and support for custom engagements where clients lack time or team to drill to the core of an opportunity to disrupt their competition. Argus Insights help clients uncover answers to their toughest consumer behavior questions and discover previously unknown needs and opportunities. Argus Insights provides better evidence that supports better decisions that leads clients to better revenues.