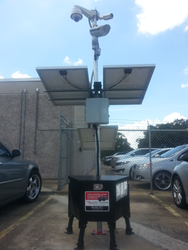 Boca Raton, Fla (PRWEB) September 30, 2014
Red Hawk Fire & Security U.S. LLC,http://www.redhawkus.com, a leader in fire, life safety and security services today introduced HawkWatch™ an innovative new way to secure large properties. The self-contained, solar powered system provides everything needed to watch your secluded area like a hawk including the 24/7 professional remote video monitoring and reporting from the Red Hawk U-L Listed, CSAA Five Diamond Certified command center in Houston.
"Our team of experts at the Red Hawk Monitoring Center created the system in response to requests from customers who needed a reliable, cost effective way to extend the reach of remote video monitoring to the areas of their properties that were most difficult to protect," said Red Hawk President and CEO Dean Seavers.
The alternative energy supplied by solar panels and the modular ability of the Red Hawk HawkWatch™ system combine to eliminate the expensive trenching, conduit and labor typically associated with bringing camera devices to the perimeter of large lots such as:

School and campus parking lots or sports complexes
Unmanned utility stations
Water treatment facilities
Heavy equipment rental yards
Construction sites
Oil/gas exploration facilities
Car dealerships.
According to Seavers, not only did customers express the need to decrease theft and the downtime caused by equipment loss in these remote reaches, but they also needed to be able to stop incidents in progress through live, two-way audio to provide additional security to isolated areas.
"With HawkWatch™ and Red Hawk professional monitoring, we can also remotely assist our customers with managing the opening and closing of gates, implementing operational compliance audits and increasing worker productivity in distant or remote sites just as we would with remote video monitoring in less secluded areas," Seavers added.
The Red Hawk HawkWatch™ system includes high-resolution, pan tilt-zoom and fixed cameras, custom camera placement, remote control operation, infrared illumination and two-way audio as well as Red Hawk's 24/7 professional remote video monitoring for virtually any location. HawkWatch™ is also available in a non-solar unit for areas that have access to local power.
HawkWatch™ offers a cost effective solution to bring remote video monitoring and the Red Hawk Power of Experience™ together to secure locations that were once out of the reach of traditional video surveillance systems.
With HawkWatch™, Red Hawk Fire & Security can help you watch your remote properties like a hawk.
About Red Hawk Fire & Security
Red Hawk Fire & Security designs, installs, tests, inspects, monitors and maintains a broad portfolio of life safety and security solutions using the latest technologies and advanced systems integration for enterprise level access control, video surveillance systems and physical security equipment such as safes, vaults and ATMs. An industry leader with over 1,400 employees and a national footprint, the company serves more than 50,000 businesses in banking and financial services, retail, education, health care and manufacturing. Red Hawk Fire & Security is headquartered in Boca Raton, Florida and their website is http://www.redhawkus.com.