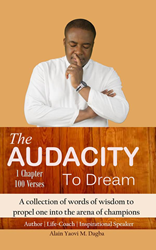 "I dare you to dream despite all adversities; for there lies the secret to your happiness."
(PRWEB) September 30, 2014
Alain Yaovi M. Dagba has proudly introduced the new book, "The Audacity to Dream." The self-help book contains words of wisdom in a form of chronological verses in one full chapter. The collection is available for a free eBook download at http://www.onelifeone.com/success.
In the book, author Alain Dagba helps readers discover their, "Secret Name" which he believes, when unveiled, opens the door to all of lives purposes and dreams. The book also lends a helping hand assisting individuals to unlock their inner gifts to give them a greater meaning of life. The book is designed to cater to all spiritual minds with all religions welcome. Those with an entrepreneurial spirit will benefit from the books message, "I dare you to dream despite all adversities; for there lies the secret to your happiness."
The author, Alain Dagba will also be traveling the country spreading the word about, "The Audacity to Dream" in various lectures and motivational speeches. He hopes that not only readers will connect with the expert wisdom in the book, but also come out to practice them and share in a group setting.
Alain believes every human has the potential to be great but needs to open their eyes to their actual true self, "The destiny of every created thing is hidden in their natural inner potentials. These potentials are their real names or their real nature. What is your real name? What is your talent? What is your gift? What are the applications you came here with? Sometimes you may get flashes of ideas about what you should be doing with your life. But you never dare to pursuit what you see. You believe it is just a fantasy. You believe it is just your imagination. Yet it makes you smile. In reality, it is the voice of your destiny calling from the deepest part of your soul. "
The Audacity to Dream, is now available for purchase through the Kindle device as well as in a paperback version.
About The Author:
Alain and Danielle are husband and wife. They are the owners of 1 Happy Life, a motivational and inspirational platform. They are ministers and life-coaches. Alain and Danielle are both authors of many books, public speakers, spiritual counselors, relationship specialists, community program writers, and seminar leaders. They are the primary founders of the Non-Profit and humanitarian organization Earth-Link ; Earth-Light. They both live in MA. They are parents of 3 children.