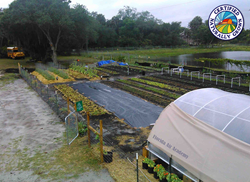 "Students at Florida Air Academy not only understand the concepts of 'farm-to-table' and 'organic'—they are living it each day," said Kyle Platt. "I'm proud to help this school lead the way in organic farming and sustainability."
Melbourne, Fl (PRWEB) September 30, 2014
Located on the southwestern corner of the Florida Air Academy campus in Melbourne, Florida is "Flair Gardens," which recently earned the Certified Naturally Grown (CNG) certification. This organic farm and outdoor classroom serves students of Florida Air Academy, Central Florida's premiere international boarding and day school for boys and girls in 6th through 12th grade.
By earning its CNG designation, Florida Air Academy joins more than 700 farms and apiaries across the USA that produce food without the use of synthetic fertilizers, pesticides, herbicides or fungicides. The CNG designation meets the needs of small farm operators who use the same standards as those for the nationally recognized USDA Organic certification, and is recognized as a powerful driver to the burgeoning field of urban farming.
Urban Farming for Student Education, Sustainability and Cost Savings
In less than one year, the acre-sized location that was once used for staff and campus vehicles is now known as Flair Gardens. Clusters of sun-ripened tomatoes hang alongside meticulously weeded rows of purple eggplants, and the sound of F.A.A. students can be heard in the greenhouse.
Leading this transformation is Kyle Platt, a graduate of the U.C.F Environmental Science program and an alumnus of Florida Air Academy. Known to his students as "Farmer Kyle," his mission is to develop a school garden that is self-sufficient and sustainable—capable of providing Florida Air Academy with fresh produce for consumption, and as an outdoor classroom for farming techniques, organic principals, and methods for sustainable living.
"Students at Florida Air Academy not only understand the concepts of 'farm-to-table' and 'organic'—they are living it each day," says Platt. "It is my belief that urban farms will be the farms for our youth and for our future, and I'm proud to help Florida Air Academy lead the way in organic farming and sustainability among private schools here in east central Florida."
In August, the school introduced a new elective course "Practical Gardening and Ecological Awareness," based upon farm management, marketing and organic best practices. During their first month in class, students built an organic composting system to handle hundreds of pounds of vegetable scraps generated weekly in the school dining hall and kitchen. Within six months, Platt estimates the system will be capable of producing a sustainable supply of organically produced compost, saving the school thousands of dollars in future operating costs. Further, as new plantings mature from seed, they will be available for sale at local farmers markets to help support the garden's operations and future expansion. For more information about Flair Gardens, visit: http://www.flair.com/sustainability.
About Florida Air Academy
Founded in 1961, Florida Air Academy (F.A.A.) is Florida's premier co-ed, college preparatory boarding and day school for young men and women in grades 6 to 12. It enrolls students from 20 US states and 25 countries, with a focus on academics, athletics, character, and leadership. With 100% college acceptance for its graduates since 1978, F.A.A. places graduates in the most prestigious colleges in the USA and around the world. In addition to academics, the school offers competitive sports and student activities, including aviation training at nearby Melbourne International Airport. For more information, call (321) 723-3211 or visit http://www.flair.com.